---
Language: English
Page: 135
Publication Date: 07/2020
ISBN: 9787520362993
Details
Since the 21st century, Africa, Which is rich in resources, with sustained economic development and political emphasis on joint and self-improvement, has gradually attracted the attention of the international community. Considering the factors of ensuring energy security, developing domestic economy and enhancing the status of a great power, India, with its obvious growth in comprehensive national strength, has changed its attitude of neglecting India-Africa relations since the cold war, actively adjusted its policy towards Africa, carried out practical cooperation with Africa, and promoted flexible diplomacy towards Africa. While emphasizing India's traditional friendship and political ties with Africa, expanding its interaction space with Africa and expanding its cooperation mechanism with Africa, it also highlights India's key partner countries and key areas of cooperation in Africa, thus deepening India-Africa cooperative relations, enhancing India's influence in Africa to a certain extent, and enhancing India's voice in the international mechanism. This report analyzes the evolution of India's policy towards Africa, studies the current situation and prospects of the development of India-Africa political, economic, trade ties, people to people exchanges and other relations, and puts forward the current differences between China and India on their cooperation with Africa, and relevant countermeasures from the perspective of think tanks based on the similarities and differences of both countries' policies towards Africa and India's perception of China-Africa cooperation and other issues. The report points out that as an important developing country and emerging economy, India's policy towards Africa and its achievements are of certain significance for China. Once the supporting forces for the national liberation of Africa, both China and India advocated strengthening cooperation with Africa on the basis of mutual respect, equality and mutual benefit, and advocating the rights and interests of the third world. In order to adapt to The Belt and Road initiative in Africa, China needs to enrich the China-Africa cooperation mechanism to meet the needs of development of relations between the two countries in the future.

About Author
Guoqing Xu,born in Zhejiang Province, China, received Law Ph. D from graduate school of the Chinese Academy of social sciences. Now, he is serving as an Associate Professor in international relations section of Institute of West-Asian and African Studies(IWAAS), Chinese Academy of Social Sciences (CASS). His major field of research are relations between the emerging countries and Africa, relations among the emerging countries, and African issues.


Table of Contents
Preface

Chapter 1 Evolution of India's Policy Towards Africa in the 21st Century
1.1 India's Neglect of Africa at the Turn of the Century: 1991-2004
1.2 Improvement of the India-Africa Relationship During the Manmohan Singh Administration: 2004-2014
1.3 Deepening of India-Africa Relations During Narendra Modi Administration: May 2014-May 2019

Chapter 2 Areas and Effects of Cooperation Between India and Africa
2.1 Areas of Cooperation between India and Africa
2.2 Achievements of India-Africa Cooperation in Various Areas

Chapter 3 The Trend of India-Africa Relations
3.1 Enhancing Political Mutual Trust between India and Africa to Realize India's Long-Term Dream of a Great Power
3.2 Deepening Economic and Trade Cooperation between India and Africa to Achieve India's Economic Development Goals
3.3 Promoting India-Africa Security Consultation to Stabilize the Domestic Situation in India
3.4 Strengthening the People-to-People and Cultural Exchanges Between India and Africa to Consolidate the Ruling Foundation BJP Governance

Chapter 4 The Interest Relationship between India and China in Africa
4.1 Assessment of the Interest Relationship between India and China in Africa
4.2 Basic Factors Affecting China-India Interest Relations in Africa

Chapter 5 Suggestions on Policies to Promote China-India Cooperation in Africa
5.1 Attaching Importance to India's Policy Towards Africa and Its Significance to China-Africa Relations
5.2 Preventing the Negative Impact of India-Africa Relations on China-Africa Cooperation
5.3 Properly Handling the Differences of Interests between China and India in Africa

Conclusion
References
Sample Pages Preview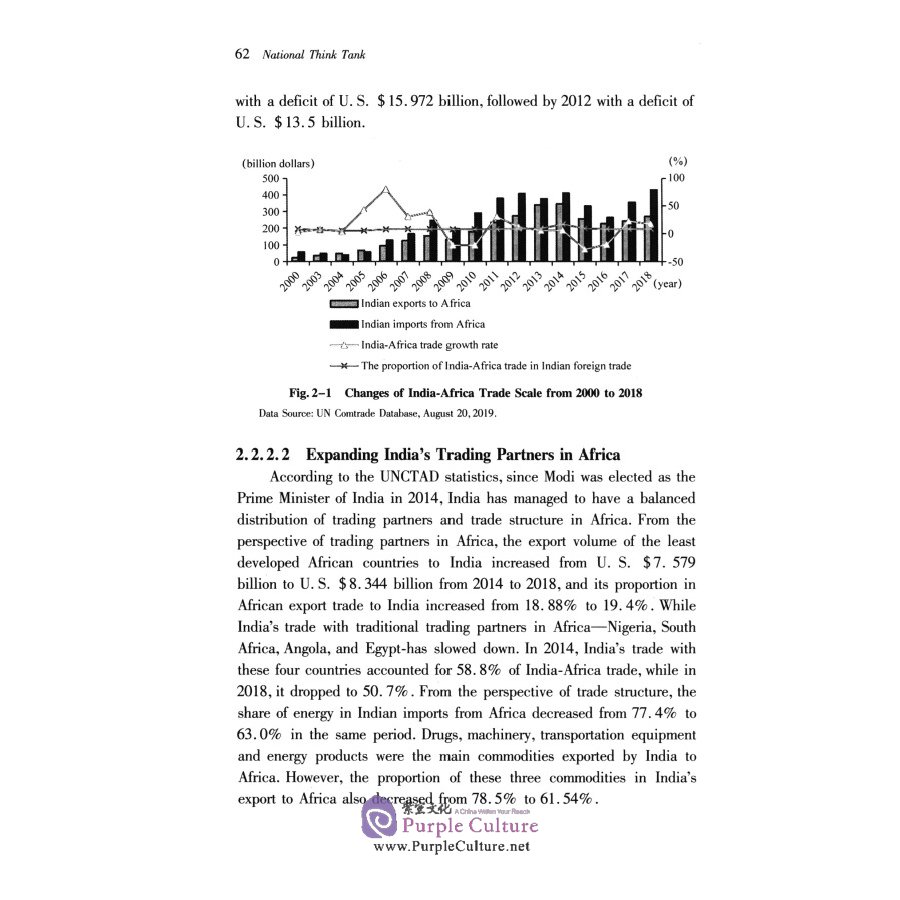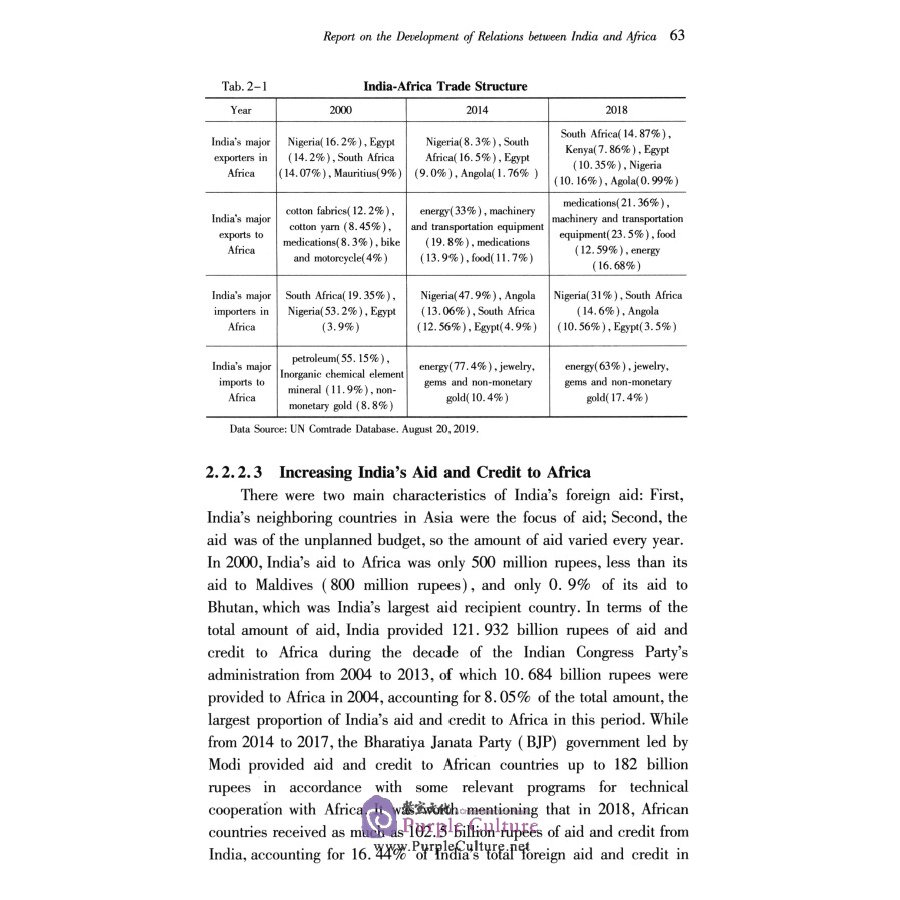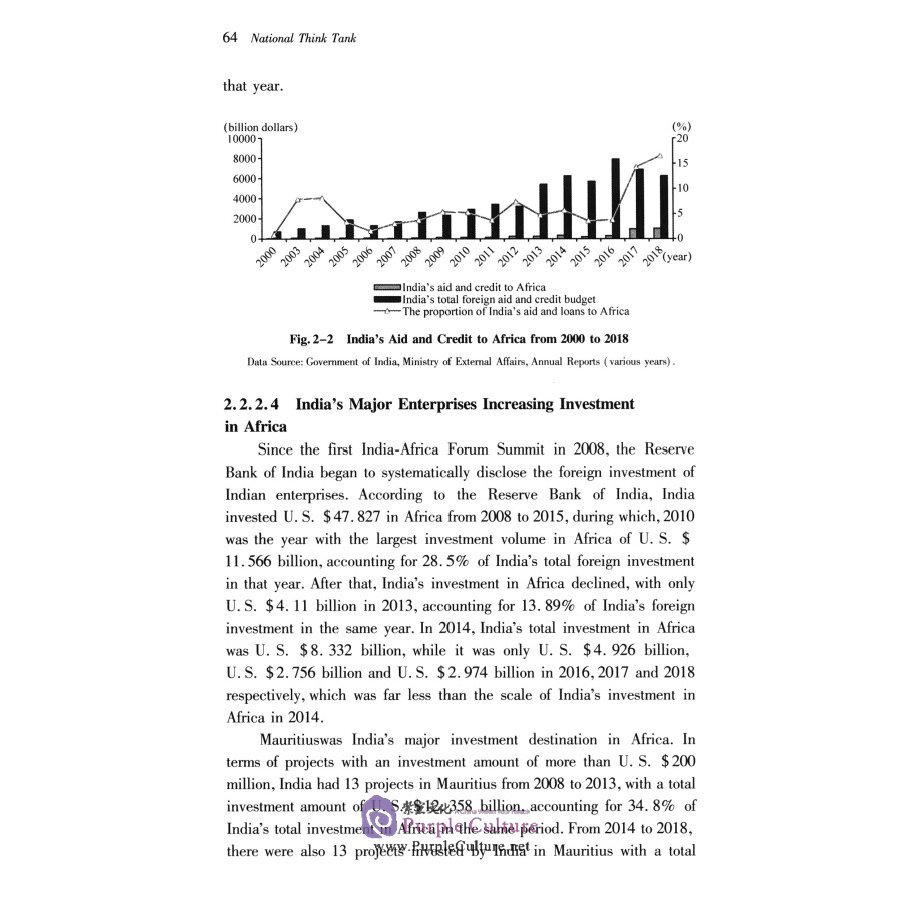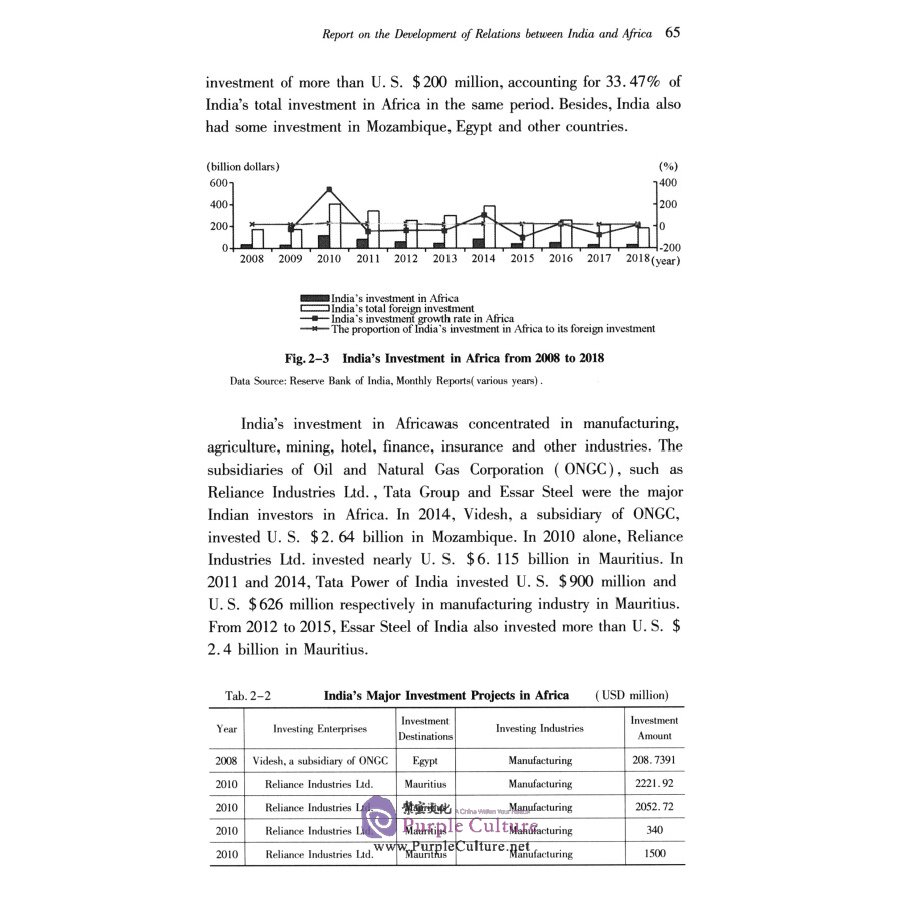 Preface
  We are witnessing major changes unfolding in the world, changes unprecedented in a century. With the in-depth development of world multipolarization, economic globalization, social informatization and cultural diversity, peace, development, cooperation and mutual benefit have become the common aspirations of human society; and it is the common wish of people from all countries to build a community with a shared future for mankind. At the same time, humankind is faced with many common challenges, typified by fierce power politics among major countries, continuous regional conflicts, terrorism, development imbalance, climate change, rising unilateralism and protectionism. China, as the largest developing country in the world, is a builder, contributor and upholder of the cause of peace and development of mankind. The 19th National Congress of the Communist Party of China held in October 2017 has led China to a new great journey of development. Guided by Chinese President Xi Jinping Thought on Socialism with Chinese Characteristics for a New Era, the Chinese people are making continued efforts to achieve the Two Centenary Goals of China and the Chinese dream of the great rejuvenation of the Chinese nation, and to make new and greater contributions to mankind. Africa, he continent with the largest number of developing countries, is one of the important forces in safeguarding world peace and promoting global development In recent years, Africa has made the admirable advances on the road of pursuing sustainable self-development and strength through unity, changing from a 'hopeless continent' for the West to a 'continent with a future full of hope', and a 'running lion'. African countries are actively exploring development paths that suit their own national conditions, and the African people are forging ahead to realize The Agenda 2063 and the African dream of peace and prosperity.
  China and Africa boast a deep-running friendship and have long formed a community with a shared future. China attaches great importance to the development of China-Africa relations. In March 2013, Xi Jinping visited Africa, also his first trip abroad as national leader. He also chose Africa for his first overseas visit in July 2018 after he was elected to a second term. Over the past six years, Xi has visited the African continent four times and arrived in eight African countries, including Tanzania, South Africa and Senegal, showing the world that China cherishes the traditional friendship with Africa and values highly the continent and China-Africa relations. In 2018, the Beijing Summit of the Forum on China-Africa Cooperation was successfully held. At this summit, Xi revealed the essential characteristics of China-Africa unity and cooperation, pointed out the direction of bilateral ties, and outlined the specific paths for the common development of China and Africa He has greatly improved and innovated the theoretical framework and ideological system of China's policy toward Africa, which has then become an important theoretical innovation of Xi Jinping thought on diplomacy of socialism with Chinese characteristics for a new era and provided a strong political principle and guide for the development of China-Africa relations in the future. This summit marks another milestone in the history of China-Africa relations.
National Think Tank 2020: The Library of the China-Africa Institute: Report on the Development of Relations between India and Africa
$11.89