---
Language: Chinese, German
Format: 26.9 x 20.8 x 1 cm
Page: 233
Publication Date: 03/2017
ISBN: 9787561948453
Details
<b>Usage Advice: </b>This book can be used as an intermediate textbook foryoung adult Chinese learners whose native language is German.<br/>
<br/>
<b>Level: </b>Intermediate<br/>
<br/>
Primary School , Middle School<br/>
<br/>
Easy Steps to Chinese (German Edition) is a series ofChinese textbooks designed for German-speaking young adult Chinese learners. This isTextbook 6 of the series. It is composed of 5 units, each including 3 lessons, respectively talking about "school", "courses", "learning Chinese", "going toBeijing", "studying abroad", "celebrating the Spring Festival", "bazaar", "challenge", "camping", "young people", "pressure", "worries", "new technologies", "health", and "environmental protection". This book is full-color printed. With beautifulillustrations, practical conversations and short articles, it enables students'simple communication in fluent and accurate Chinese. Besides the MP3 CD, italso provides a QR code for students to listen to the audio recordings onlineor download them onto their mobile devices so that they can study anytime andanywhere.<br/>
<br/>
<b>About the Author</b><br/>
Ms. Yamin Ma holds a B. A. of British Language and Literature and an M. Ed. inCurriculum Design and Development. She is now teaching Chinese as a foreignlanguage in an international school in Hong Kong. With many years' experiencein teaching Chinese as a foreign language, she has done a thorough research fora long time on the Chinese AP test in the USA and Chinese IB test in Europe. Her research interests include English Language Teaching, Chinese LanguageTeaching and Pedagogical Psychology. Her academic papers have been read andpublished for many times in international seminars.
Table of Contents
第一单元
第一课学校
第二课课程
第三课学汉语
单元复习
第二单元
第四课去北京
第五课游学
第六课过年
单元复习
第三单元
第七课义卖会
第八课挑战
第九课露营
单元复习
第四单元
第十课青年人
第十一课压力
第十二课烦恼
单元复习
第五单元
第十三课新科技
第十四课健康
第十五课环保
单元复习
词汇表
附录:中国地图
Sample Pages Preview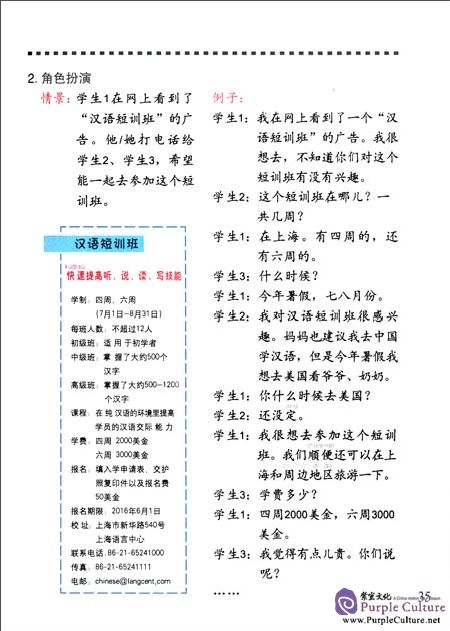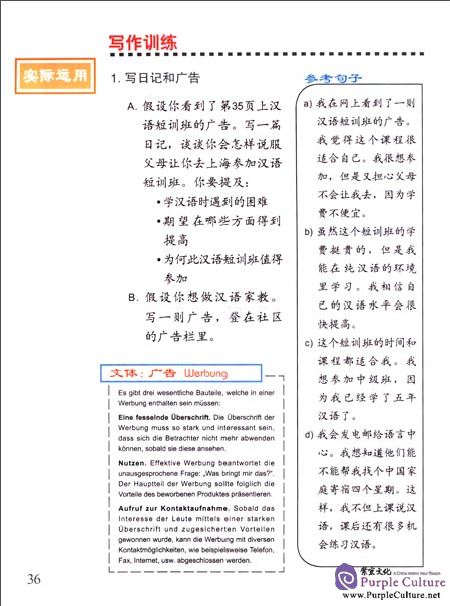 Erste Schritte in Chinesisch Textbuch 6
$29.83