San Yan refers to the three short story collections of the Ming Dynasty written by Feng Menglong: Instruction Stories to Enlighten the World, Stories Enlightening the World, and Stories to Awaken the World. The three books consist altogether of 120 pieces with each composed of 40. Rich in content, San Yan deals with almost every aspect of the social life of the time and reflects the characteristics of the era which witnessed the decline of the feudal lord class and the gradual rise of the townsfolk stratum. San Yan represents the summit of ancient short story writing in vernacular Chinese.

This book is edited and translated by the famous translator Wang Guozhen, to introduce Stories to Awaken the World the World to the foreign readers.
  《醒世恒言故事》由著名翻译家王国振在《醒世恒言》全本基础上进行选编翻译,向国外读者介绍警世通言故事。
  ThisbookiseditedandtranslatedbythefamoustranslatorWangGuozhen,tointroduceStoriestoAwakentheWorldtheWorldtotheforeignreaders.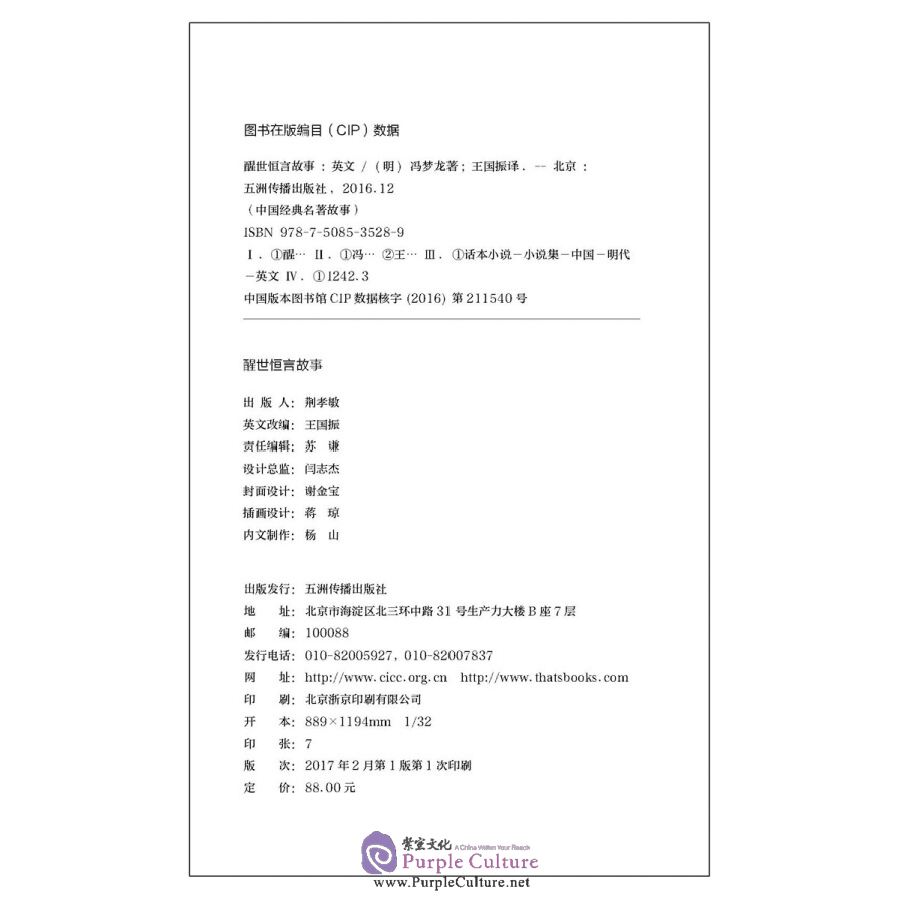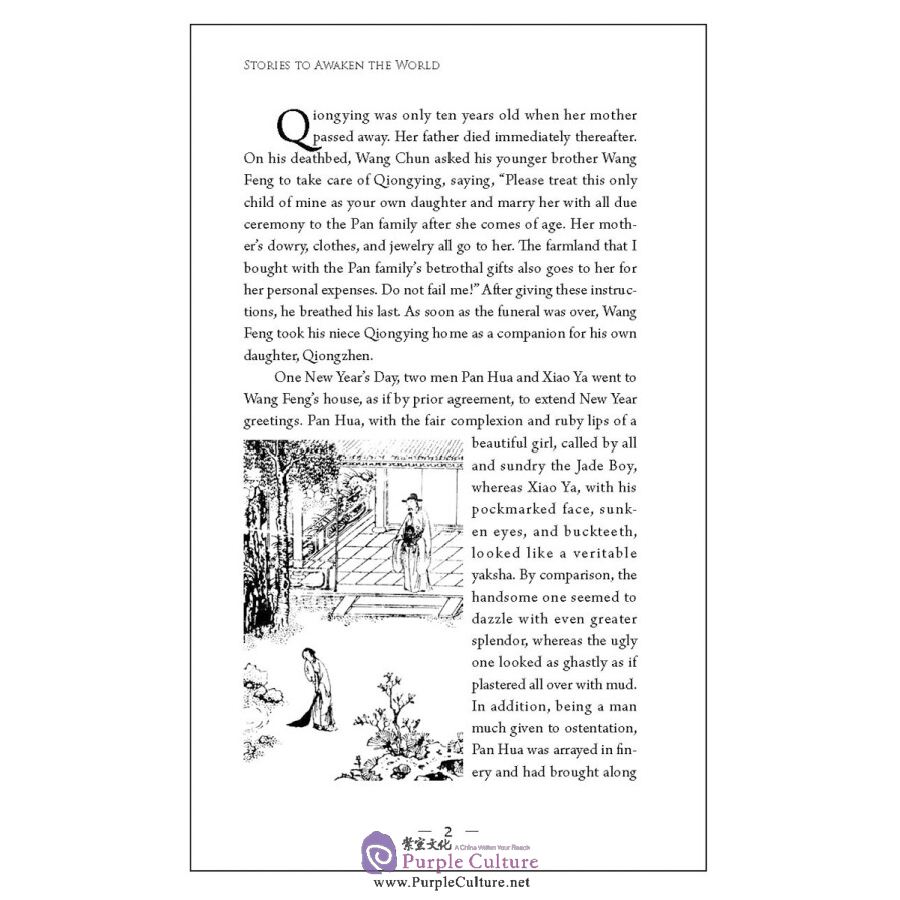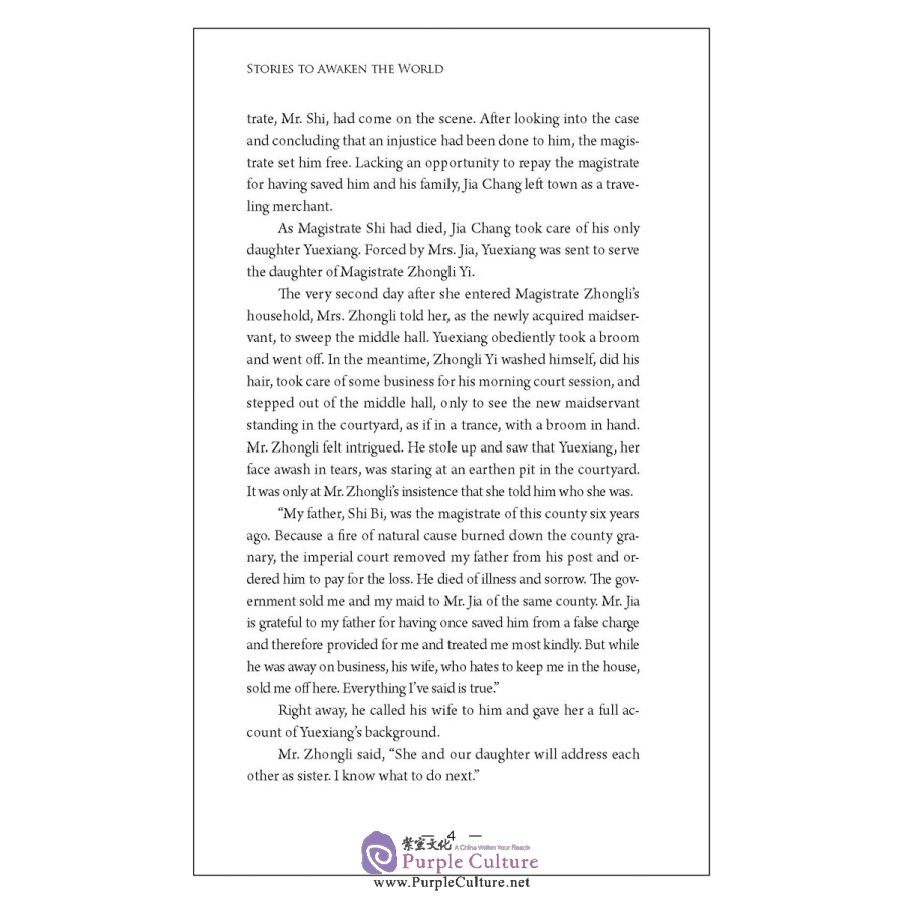 Qiongying was only ten years old when her mother passed away. Her father died immediately thereafter. On his deathbed, Wang Chun asked his younger brother Wang Feng to take care of Qiongying, saying, "Please treat this only child of mine as your own daughter and marry her with all due ceremony to the Pan family after she comes of age. Her mother's dowry, clothes, and jewelry all go to her. The farmland that I bought with the Pan family's betrothal gifts also goes to her for her personal expenses. Do not fail me!" After giving these instructions, he breathed his last. As soon as the funeral was over, Wang Feng took his niece Qiongying home as a companion for his own daughter, Qiongzhen. One New Year's Day, two men Pan Hua and Xiao Ya went to Wang Feng's house, as if by prior agreement, to extend New Year greetings. Pan Hua, with the fair complexion and ruby lips of a beautiful girl, called by all and sundry the Jade Boy, whereas Xiao Ya, with his pockmarked face, sunken eyes, and buckteeth, looked like a veritable yaksha. By comparison, the handsome one seemed to dazzle with even greater splendor, whereas the ugly one looked as ghastly as if plastered all over with mud. In addition, being a man much given to ostentation, Pan Hua was arrayed in finery and had brought along 3 a whole wardrobe of clothes in which to parade himself. Xiao Ya, on the contrary, was a down-to-earth sort of man who took little interest in clothes. As the saying goes, "Clothes to men are what gilt is to a statue of Buddha." Most people lack the wisdom to look underneath appearances into the heart. All the members of the Wang family, male and female, old and young, admired the handsome Young Master Pan as they would have admired Pan An and, among themselves, set their tongues a-wagging about the unprepossessing looks of the "yaksha." Wang Feng himself also found the latter too unsightly and felt grievously disappointed.