Acupuncture and moxibustion are indispensable parts of traditiona[Chinses medicine in the prevention and control of disease.Since the founding of the People's Republic of China these arts have beendeveloped and are highly regarded by the international, academic community. Based upon Essentials of Chinese Acupuncture, used as a textbook by the International. Acupuncture Training Centers in Beijng, Shanghai and Nanjing, Chinese Acupuncture and Moxibustion incorporates the rich experience of class teaching and clinical, practice and the results of acupuncture research, retaining the characteristic features ofthe traditional theory of acupuncture and stressing the integration of theory and practice.The book consists of eighteen chapters and four appendices. Chinese Acupuncture and Moxibustion was compiled by the International Acupuncture Training Centers and Acupuncture Institute of China, Academy of Traditional. Chinese Medicine, on commission of the Ministry of Public Health. It is published by Foreign Languages Press and distributed by China International Book Trading Corporation.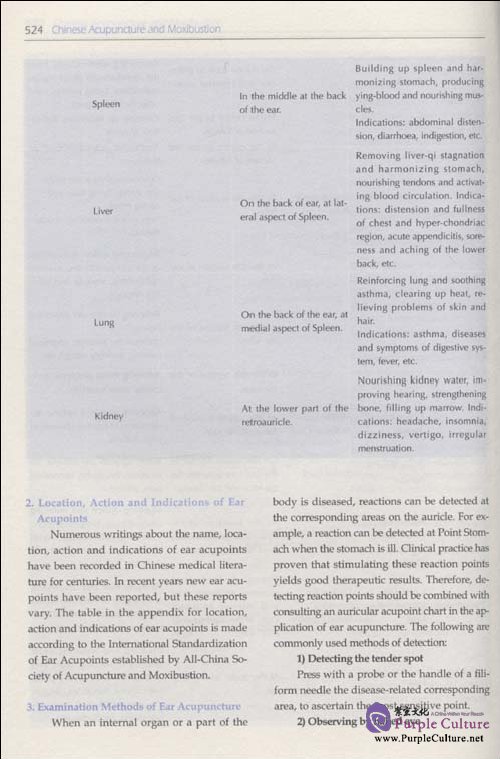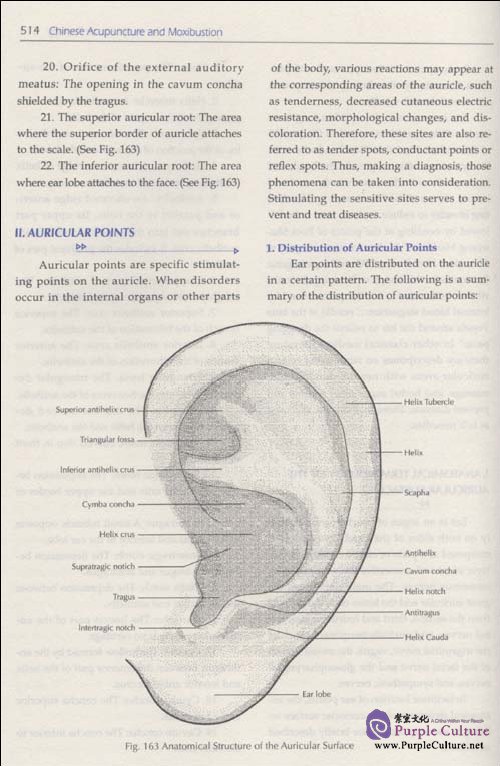 1.THE 0RIGlN OF ACUPUNCTURE ANDMOXIBUSTION
Acupuncture and moxibustion are im-portant inventions of the Chinese nation andoriginated as early as in the clan communeperiod of primitive society.The activitiesof human beings appeared in China aboutL700,000 years ago.It was about 100,000years ago that China entered the clan corn-mune period which 1asted till 4,000 yearsago.In the ancient 1iterature there were manylegends about the origin of acupuncture and moxibustion sqch as Fu Xi's creation of thetherapeutic techniques with stone needles,and Huang Di's invention of acupuncture and moxibustion.The above-mentioned Fu Xi and Huang Di in legend actually arethe representatives of the clan commune of primitive society.
In the classics of two thousand years ago,it was frequently cited that the acu.puncture instruments were made of stone and were named bian stone.For example,in Commentary on the Spring and Autumn An-nals,there is a paragraph in historical recordsfor 550 B.C.saying:H Praise pleasant to hearthat does an ill turn is worse than advice unpleasant to hear that acts like a stone?Fu Qian in the second century explained that"stone"here meant bian stone.Quan Yu-anqi who 1ived around the 5th-6th centuries pointed out:"Bian stone is an ancient appli'ance for external treatment and was known by three names:1.needle stone;2.bian stone;3.arrow.headed stone.In fact,they are the same thing.Because there was no iron cast-in2 in ancient times,the needles were made of stone}'This is correlated with the fact that the stone instruments were extensively used in the primitive society.Primitive period in China was divided into two stages,the Old Stone Age(from remote antiquity to 10,000years ag01 and the New Stone Age(from10,000-4,000 years ago).In the Old Stone Agethe ancestors knew how to use stone knivesand
by Paulo Moura on 2012-12-17 11:32:00
It is a very good book and the staff was very helpfull Purple Culture.
Thank you.
by Dawn on 2012-10-28 18:26:49
Diagram on page 235 incorrect. It is important for location of acupuncture to be correct.