---
Language: English
Format: Papercover
Page: 111
Publication Date: 06/2010
ISBN: 9787508514093
Sample Pages:
PDF Download
Details
Child imagery has played an important role in China's traditional art of painting. The earliest depictions of children were found during the Warring States Period (475-221 BC). However,it's after more than a millennium that genre paintings featuring children had their heyday in the Song Dynasty (960-1279).
A significant number of children's portraits had been created in history. Overall, child subjects fall into three categories: playing children, shepherd boys, and peddlers.
Zhang Xuan and Zhou Fang were two portrait painters of the Tang Dynasty (618-907) good at depicting children at play. Popular children's games in ancient times include playing house,fighting on "horseback", cricket-fighting, and so on. Su Hanchen of the Song Dynasty began to establish romantic associations linking childhood with naivety in his artworks, which were drawn with meticulous observations.
Table of Contents
Portraits of Children in the Tang Dynasty
Feet of Chinese Unicorn (Partial)
Feet of Chinese Unicorn (Partial)
Feet of Chinese Unicorn (Partial)
Feet of Chinese Unicorn (Partial)
Two Kids (Incomplete)

Portraits of Children in the Song Dynasty
Children at Play in an Autumn Garden (Partial)
Five Mascots (Partial)
Washing the Statue of Buddha
Children at Play (Partial)
Children at Play (Partial)
Children at Play (Partial)
Children at Play in an Autumn Garden (Partial)
One Hundred Children at Play (Partial)
One Hundred Children at Play (Partial)
One Hundred Children at Play (Partial)
One Hundred Children at Play (Partial)
One Hundred Children at Play (Partial)
One Hundred Children at Play (Partial)
One Hundred Children at Play (Partial)
One Hundred Children at Play (Partial)
Portrait of an Actor
Portrait of a Peddler
Children at Play
Picking Dates (Partial)
Children at Play in Winter Garden (Partial)
Children at Play in Dragon Boat Festival (Partial)
Portrait of a Peddler
Peddling
Children Living in Harmony (Partial)
Children Living in Harmony (Partial)
Grazing in an Autumn Forest (Partial)
Children at Play in a Garden
Children at Play in an Autumn Garden
Ball-playing in the Shade of a Plantain Tree
One Hundred Children at Play
One Hundred Children at Play
Returning Drunkenly on Chun-she Day
Wenji Returning Home
Child and Two Cats
Children at Play Outside a Lotus Pavilion

Portraits of Children in the Yuan Dynasty
Solidarity (Partial)
Solidarity (Partial)
Children at Play in Summer (Partial)
Children at Play in Autumn (Partial)
Portrait of a Peddler
Return of Child Cowherds in the Shade of Willow Trees

Portraits of Children in the Ming Dynasty
Children at Play
A Facsimile Painting of Song Dynasty
A Facsimile Painting of Song Dynasty
A Facsimile Painting of Song Dynasty
Watching the Children Catching Willow Catkins (Partial)
Portrait of Figures (Partial)
Peddler in Spring
Peddler in Summer
Peddler in Autumn
Peddler in Winter
Peddler
Portrait of the Laughing Buddha
Peddlers

Portraits of Children in the Qing Dynasty
Children at Play
First Day of the Lunar New Year (Partial)
First Day of the Lunar New Year (Partial)
Celebrating the First Day of the Lunar New Year
Celebrating the First Day of the Lunar New Year (Partial)
Celebrating the First Day of the Lunar New Year (Partial)
Lunar Calendar Months (December) (Partial)
Peace and Pleasure
Peace and Pleasure
Peace and Pleasure
Peace and Pleasure
Celebrating Lantern Festival
Children at Play Under Palm and Banana Trees
Auspicious Happiness
Children at Play
Early Spring
Children at Play
One Hundred Children at Play
One Hundred Children at Play
One Hundred Children at Play
One Hundred Children at Play
One Hundred Children at Play
One Hundred Children at Play
Appendix
Sample Pages Preview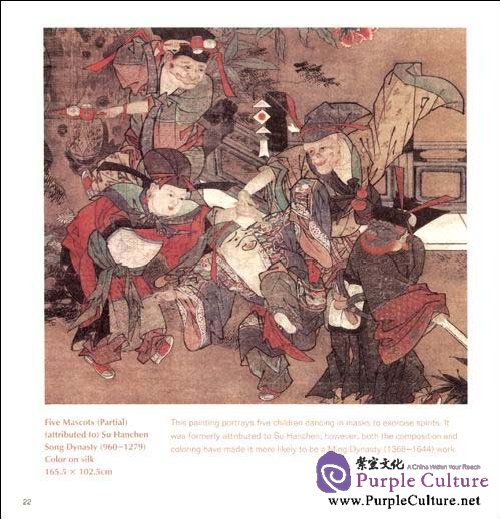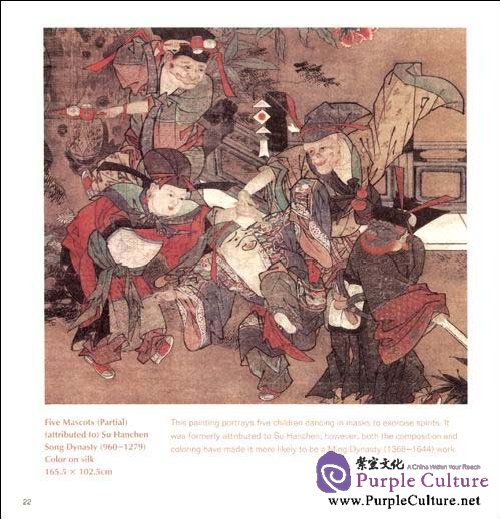 Ancient China's Genre Painting Featuring Children
$28.00