第一章:掌握拼音
活动1:又被称为
活动2:字正腔圆
活动3:世界地名
活动4:模仿比赛
活动5:听读纠错
活动6:追求完美
第二章:攻克汉字
活动7:部件结构
活动8:想象汉字
活动9:写字比赛
活动10:空中写字
活动11:刨根问底
活动12:查词比赛
第三章:扩充词汇
活动13:构建词网
活动14:复合词竞赛
活动15:集中训练
活动16:猜来猜去
活动17:我敢打赌
活动18:大同小异
活动19:熟语配对
活动20:成语小品
活动21:因材施教
活动22:猜多义词
第四章:理解语法(一)
活动23:初见量词
活动24:我看到了
活动25:锦上添花
活动26:各就各位
活动27:多重定语
活动28:谁在前面?
活动29:前因后果
活动30:有上有下
活动31:展望未来
活动32:谁先谁后?
第五章:理解语法(二)
活动33:提问特权
活动34:快速提问
活动35:布置场景
活动36:世界何处?
活动37:胡言乱语
活动38:逗号堆积
活动39:"把"基础打牢
活动40:言语乐高
活动41:"把""被"互换
活动42:糟糕的一天
活动43:说唱中文
活动44:我不同意
活动45:言简意赅
活动46:想入非非
第六章:化零为整
活动47:学而时习之
活动48:持之以恒
活动49:焦点访谈
活动50:手机聊天
参考文献

Chapter 1: Making Tones Accurate
Activity 1: Otherwise Known As
Activity 2: Sound & Tone Pair-up
Activity 3: Sounds Around the World
Activity 4: "Copy That" Contest
Activity 5: "Odd" Tone Out
Activity 6: Race to Pinyin Perfection
Chapter 2: Mastering Characters
Activity 7: Chinese Building Blocks
Activity 8: Picture This
Activity 9: Writers with a Deadline
Activity 10: Air-Writing Characters
Activity 11: Root Search
Activity 12: Look It Up, Fast!
Chapter 3: Beefing up Vocabulary
Activity 13: Character Web
Activity 14: Compound Word Race
Activity 15: No Dilution Here
Activity 16: Backs Against the Wall
Activity 17: I Bet Your Wager
Activity 18: Loaded Words
Activity 19: Parallel Proverbs
Activity 20: Proverbial Wisdom Charades
Activity 21: Individualized Vocabulary Tests
Activity 22: Guess the Homonym
Chapter 4: Internalizing Grammar I
Activity 23: First Stop: Measure Words
Activity 24: What Did I Just See?
Activity 25: Happening Adverbs
Activity 26: Plug-in Adverbs
Activity 27: Relative Clause Shuffle
Activity 28: Guess the Relative Clause
Activity 29: Consequential Complements
Activity 30: What Goes Up Must Come Down
Activity 31: Back to the Future
Activity 32: What Goes Before What?
Chapter 5: Internalizing Grammar II
Activity 33: Interrogative Prerogative
Activity 34: Query Challenges
Activity 35: Setting the Scene
Activity 36: Where in the World?
Activity 37: Verbal Silliness
Activity 38: Comma Pile-up
Activity 39: Ba Basics
Activity 40: Verbal Lego
Activity 41: Bad Acts
Activity 42: Our Worst Day Ever
Activity 43: Rap Chatter
Activity 44: This, I Don't Agree!
Activity 45: Voidable Subjects
Activity 46: When You Assume…
Chapter 6: Putting It All Together
Activity 47: Review Games
Activity 48: Dear Diary...
Activity 49: Open Notebook
Activity 50: Let's Chat
References and Further Readings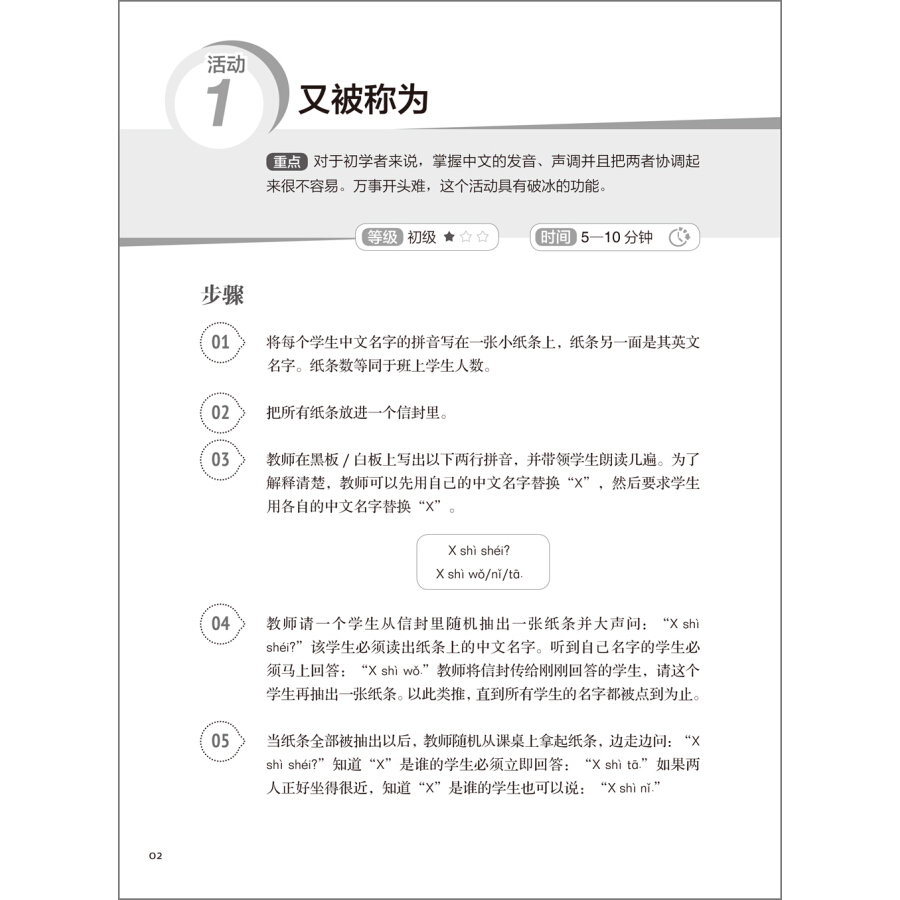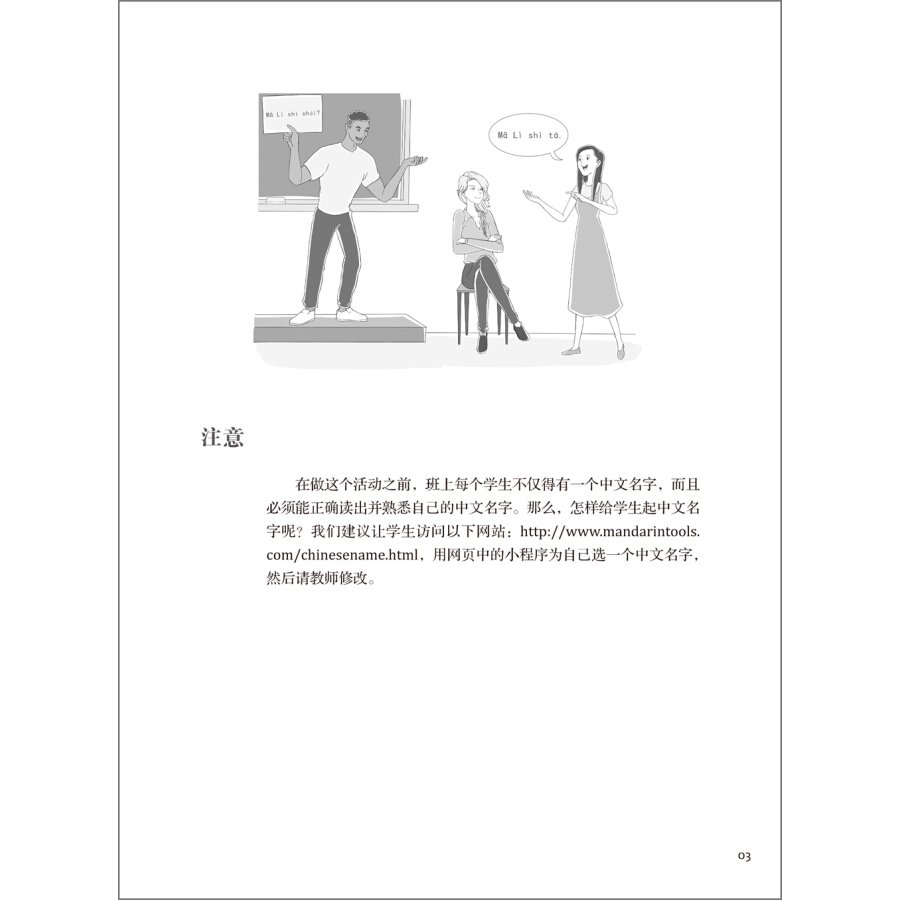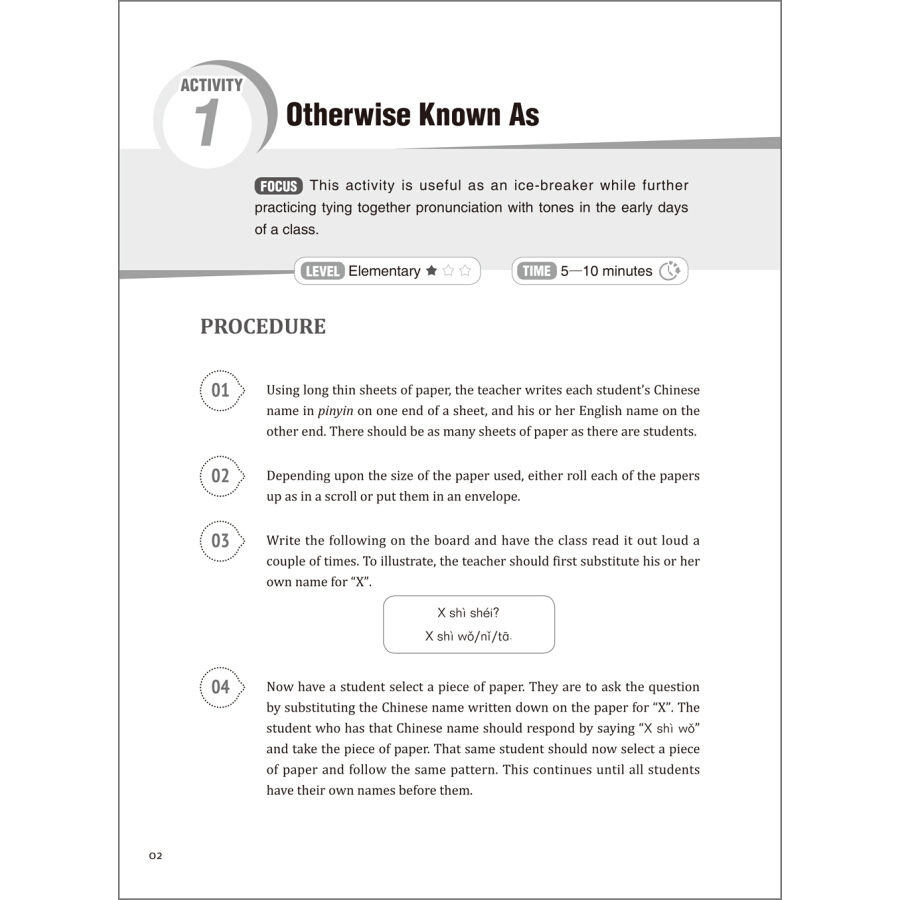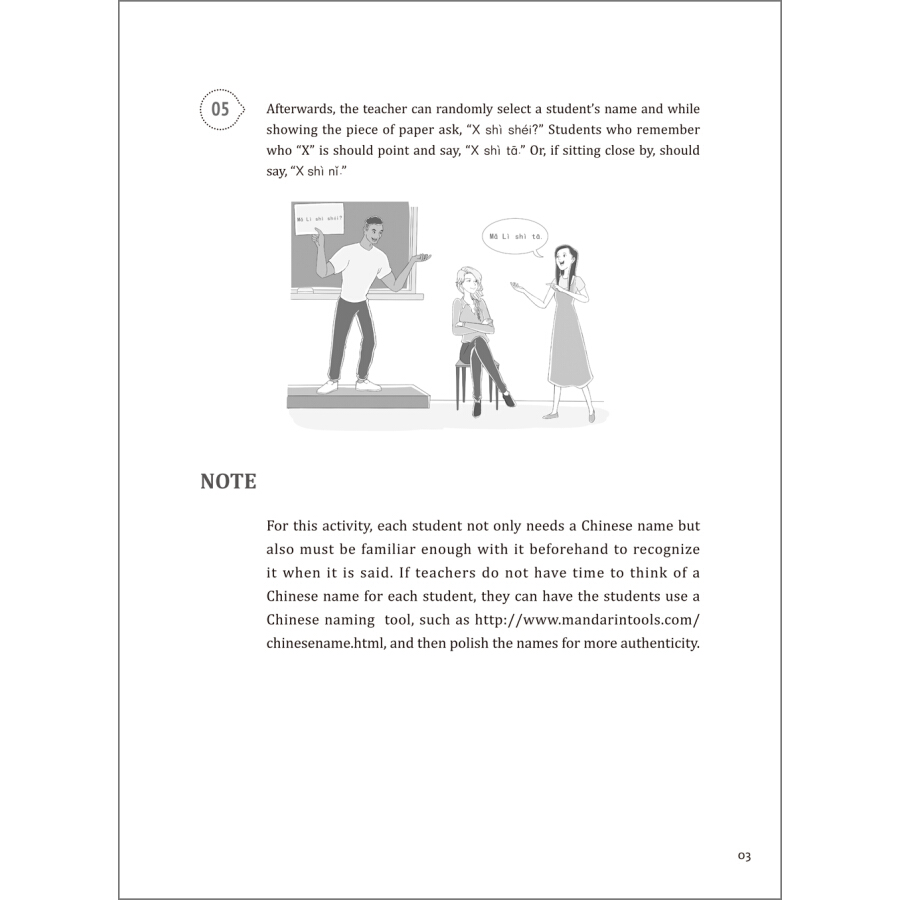 Introduction
50 Activities for the International Chinese Classroom presents an innovative approach to the learning of Chinese along the lines of Communicative Language Teaching (CLT). The ideas of CLT—creating a friendly and supportive student-centered learning environment with meaningful contexts in order to develop communicative competence—have been widely implemented in the teaching of mainstream foreign languages, but less enthusiastically or even reluctantly used in Chinese teaching. Therefore, promoting communicative Chinese teaching through activities is the first goal of this book.
All foreign language teachers must face the following challenges: arousing learners' interest, motivating students to learn, and helping them retain what has been learned. Chinese language teachers, however, are faced with an additional challenge—the difficulty of the language itself. What can we teachers do to make learning Chinese less of a struggle and more of a gratifying adventure for our students? And since far too many Chinese language learners give up on their studies, how can we maintain students' interest throughout the long journey to communicative competence? This book is aimed at addressing these questions practically by providing meaningful and engaging classroom activities that specifically target the unique linguistic features of Chinese which pose such a challenge for English-speaking learners; for instance, tones, characters, unique grammatical structures, etc. Our rationale, based on current cognitive research, is three-fold.
? Spaced-Repetition
Just as cramming does not work for students in the long-term, neither does it work if it is the teacher who is doing the "cramming" in the classroom. Covering material in a concentrated fashion hoping that mastery will ensue is counter-productive. To truly learn, our brains need both a rest period of non-exposure, and then need to be called upon later to recall. In other words, the brain needs practice retrieving partially learned material before it can be truly considered mastered. While the ideal amount of time in between recall sessions varies depending upon the circumstances and individual, teachers should plan on spacing out their coverage of certain topics over time. As learning is not accomplished in one fell swoop, activities are a needed addition to formal teaching, exercises, and testing. For the purpose of spaced-repetition, we have created two different activities for each particular linguistic item.
? Variety Is the Spice of Life—and Learning
With spaced-repetition being so important, variety becomes necessary. Asking for recall in different contexts makes learning more memorable and thus more effective. Variety is also necessary because as we all know what works for one student may not work as well for another. This is also true for teachers. While many teachers will have excellent results with competitive games, other teachers might struggle to get the students engaged if they themselves see games as silly time-wasters. In order to be an effective teacher, one must be true to one's personality. Using a medley of different types of activities thus substantially increases the odds of successful teaching and learning.
? Supportive Learning Environment
And on that note, personalities matter in any classroom, but perhaps no more so than in the foreign-language classroom. Since language is the means by which we all express ourselves, egos tend to be fragile when faced with the inability to be our true selves. By their very nature, activities create a supportive, convivial classroom atmosphere which increases the intrinsic motivation of students so they are more apt to carry on in their studies. We see this book being used in several ways. First, teachers can simply use the activities in their own classrooms as is. Knowing how preparation and small details dictate an activity's success or failure, care has been taken to illustrate the procedures step-by-step. Second, we hope that these activities will inspire teachers to develop or improve upon their own activities. As teachers, we can all use some new tricks of the trade to keep things fresh for ourselves and our students. And, thirdly, the activities can be used as an emergency remedy. Let's say you or a previous teacher has taught your students the bɑ structure, but one day you notice that the students seem rusty. That would be an excellent time to look for an activity to bring that structure back to the forefront of their brains.
All in all, it is the authors' hope that Chinese language teachers—from novice to experienced—find this book a handy and effective tool in their teaching toolbox.
The Authors
Seton Hall University
February, 2016