---
Author: Han Yuguo;
Language: Chinese, English
Page: 204
Publication Date: 02/2014
ISBN: 9787561937662
Series: You and Me
Details
Usage Advice: 3-4 class hours for each of the 16 lessons (in 8 units)

Level: Beginner

You and Me is a new-type Chinese crash course book targeted at Confucius Institutes in Europe and the US, catering to the need of international Chinese education. It is suitable for adults with no experience of learning Chinese. It is the result of one of the major projects of BLCU's Research Center for Teaching Chinese to Speakers of Other Languages. 
The book is divided into two volumes, respectively corresponding to Levels 1-2 in the Chinese Language Proficiency Scales for Speakers of Other Languages issued by Hanban. Set in a Confucius Institute overseas, Volume 1 "Learning Chinese Overseas" passes on and shows to students such themes and contents as everyday Chinese conversation, personal information, daily life, work, study, and career planning. In Volume 2 "Learning Chinese in China", the main characters are taking short-term courses in the College of Chinese Studies in a Chinese university, and the themes and contents, including life services, human and environment, feelings and plans, etc., are displayed through what they see, hear and feel in China. With 8 units in each volume and 2 lessons in each unit, the two volumes have 32 lessons in total. Each volume of textbook is supported by a workbook and a teacher's book.
All the directions and explanations in the textbook are written in English, illustrated by plenty of full-color drawings and images. An MP3 CD comes with the textbook. 
This is Textbook 1.

About the Author
Han Yuguo, PhD in Linguistics and Applied Linguistics, is an associate professor in the College of Intensive Chinese Training of BLCU, and a researcher in BLCU's Research Center for Teaching Chinese to Speakers of Other Languages. Mr. Han's research focuses on the interface between syntax and semantics in modern Chinese, and the teaching of Chinese as a foreign language.
Table of Contents
1发现汉语 
1你好,中国! 
2老师,您好! 
2家人和朋友 
3你忙吗? 
4她男朋友很帅! 
3姓名和国籍 
5您贵姓? 
6你是哪国人? 
4年龄与外貌 
7你是哪儿人? 
8她眼睛很大 
5谈学习 
9你有汉语词典吗? 
10你学习忙吗? 
6工作与职业 
11你想做什么工作? 
12我骑自行车上班 
7时间和日期 
13纽约现在几点? 
14祝你生日快乐! 
8钱币与购物 
15打几折? 
16你要大的还是小的? 
生词索引 
以课为序 
以拼音为序
Sample Pages Preview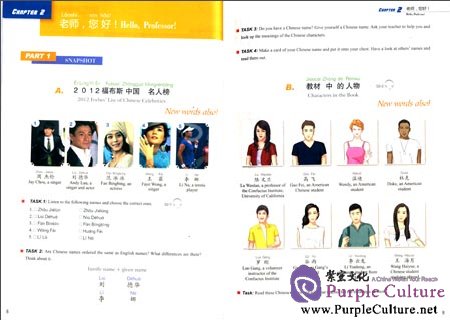 You and Me Textbook 1: Learning Chinese Overseas
$17.60