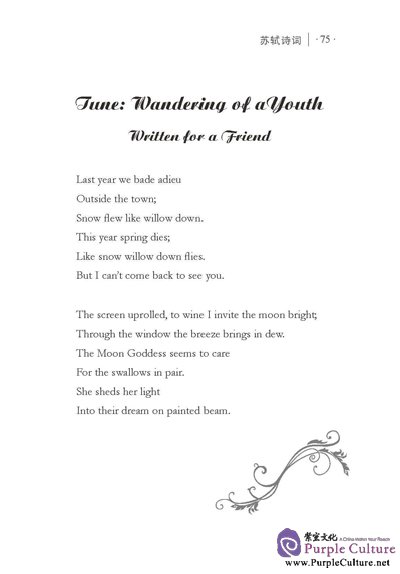 Enjoying sleep and shunning sadness, she blossoms late,
Afraid an icy look might not be up to date.
Like peach and apricot she rouges her fair face;
Like snow and frost she has her lonely, slender grace.
Her heart is cold and will not seek to please as spring;
Her skin like jade is tinged with the hue wine would bring.
How can she be described? An old poet knows not
But says she's leafless peach and green-boughcd apricot.
琴 诗
若言琴上有琴声,
放在匣中何不鸣?
若言声在指头上,
何不于君指上听?
Song of the Lute
If you say music from the lute does rise,
Why in its case will not vibrate its string?
If you say the sound in the fingers lies,
Why have we never heard the fingers sing?
南 堂
江上西山半隐堤,
此邦台馆一时西。
南堂独有西南向,
卧看干帆落浅溪。
The Southern Hall
The western hills are half hidden by river banks,
All the pavilions of this country face the west.
The Southern Hall has windows on the south and west flanks,
Abed, I see a thousand sails and waves with white crest.
海 崇
东风袅袅泛崇光,
香雾空蒙月转廊。
只恐夜深花睡去,
故烧高烛照红妆。