Sample Pages Preview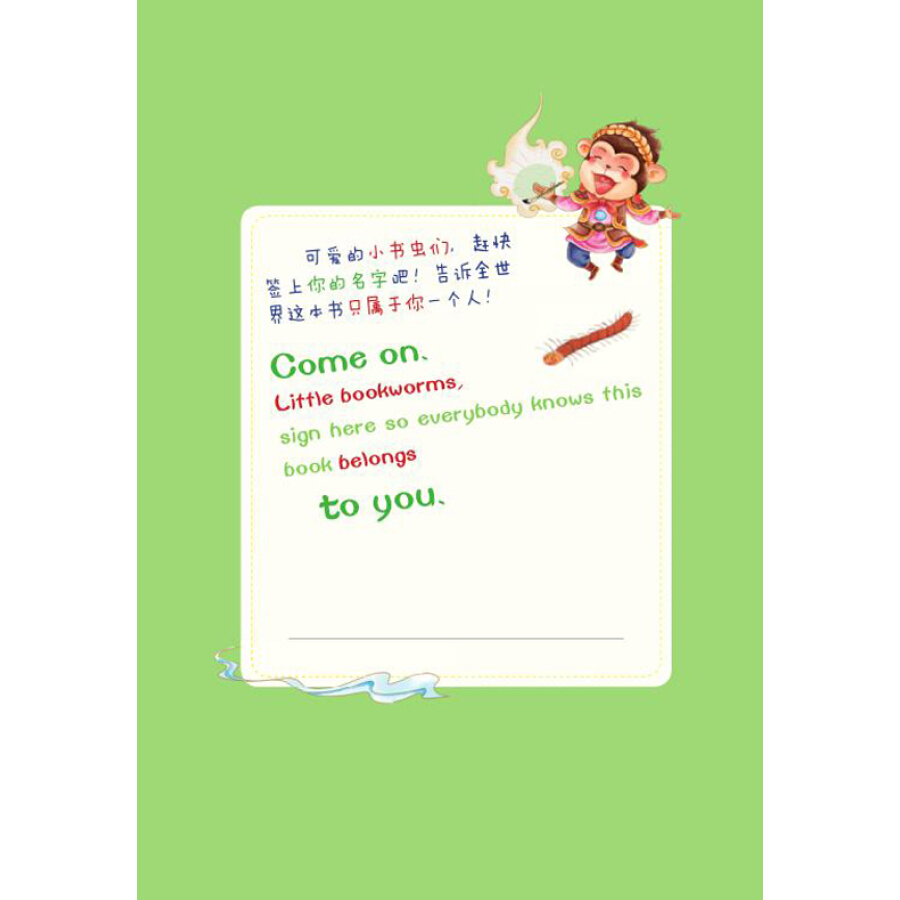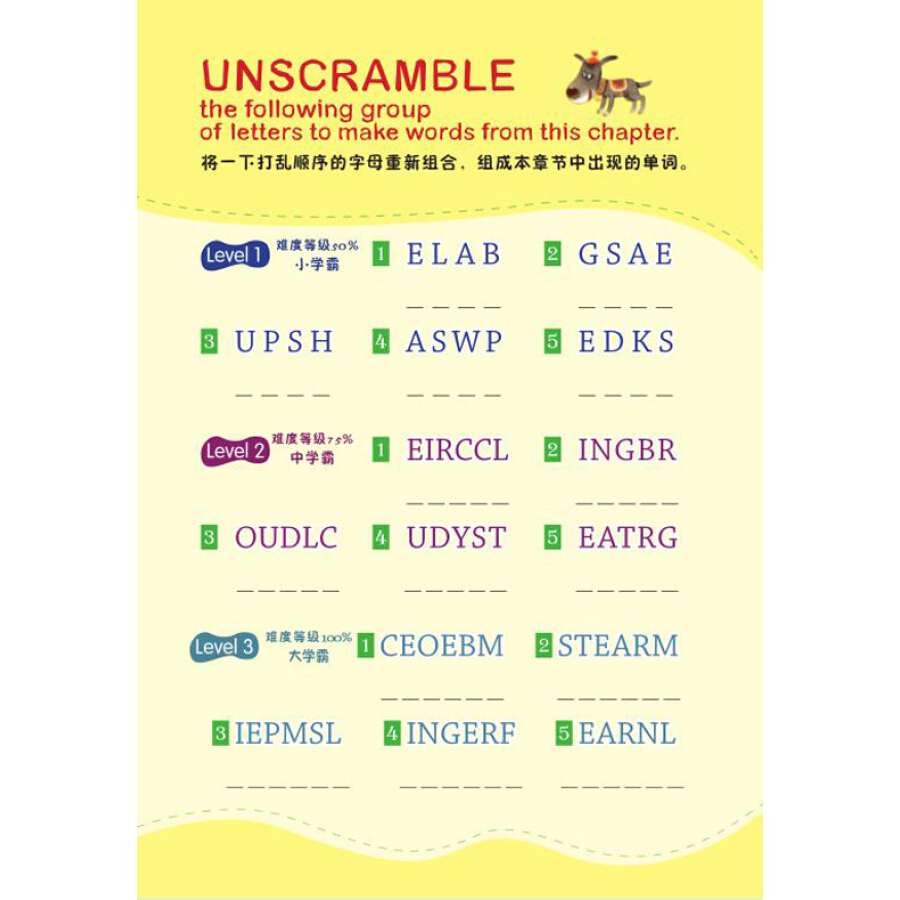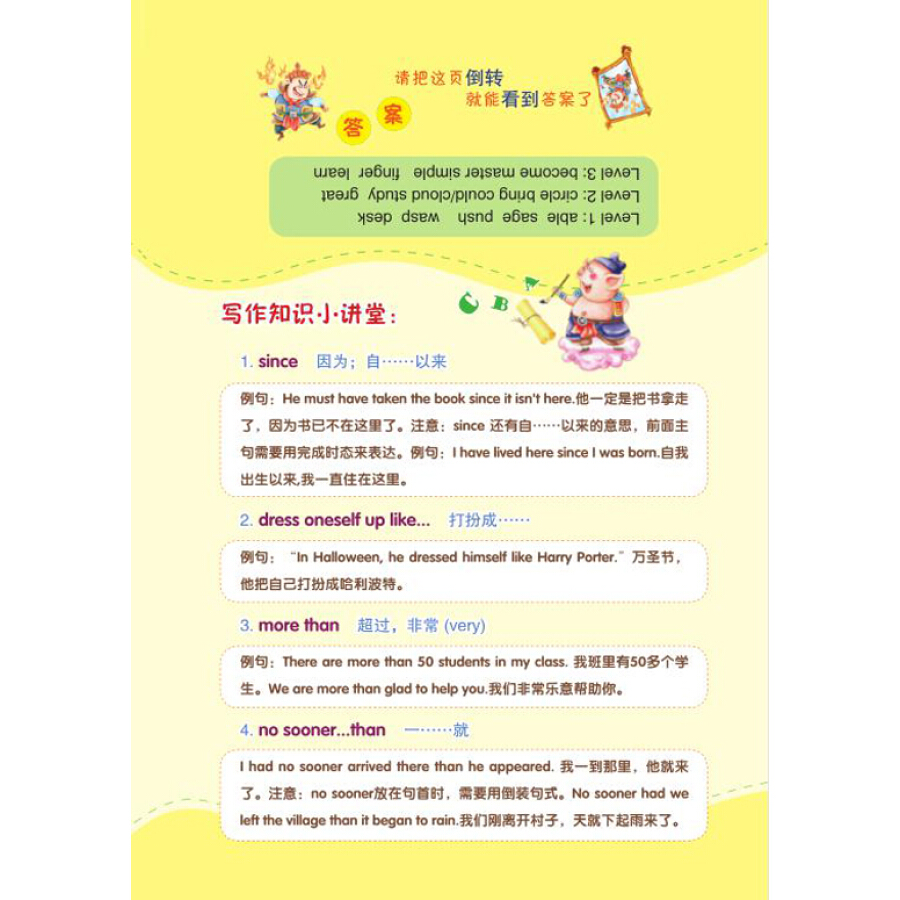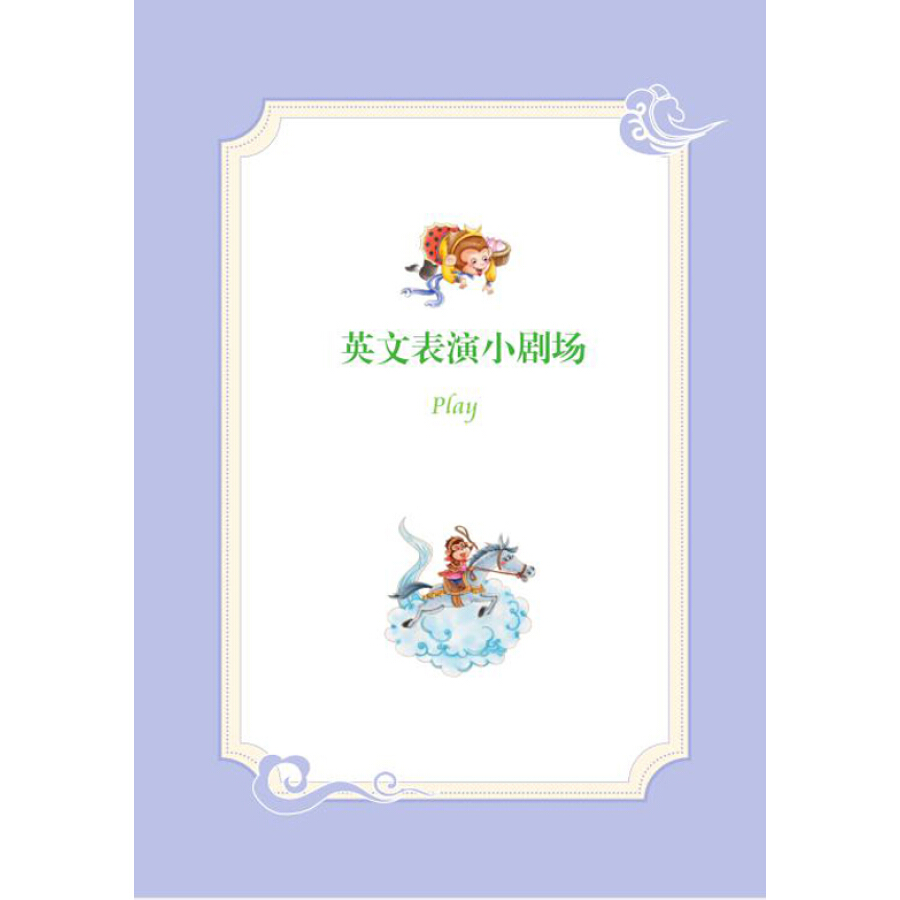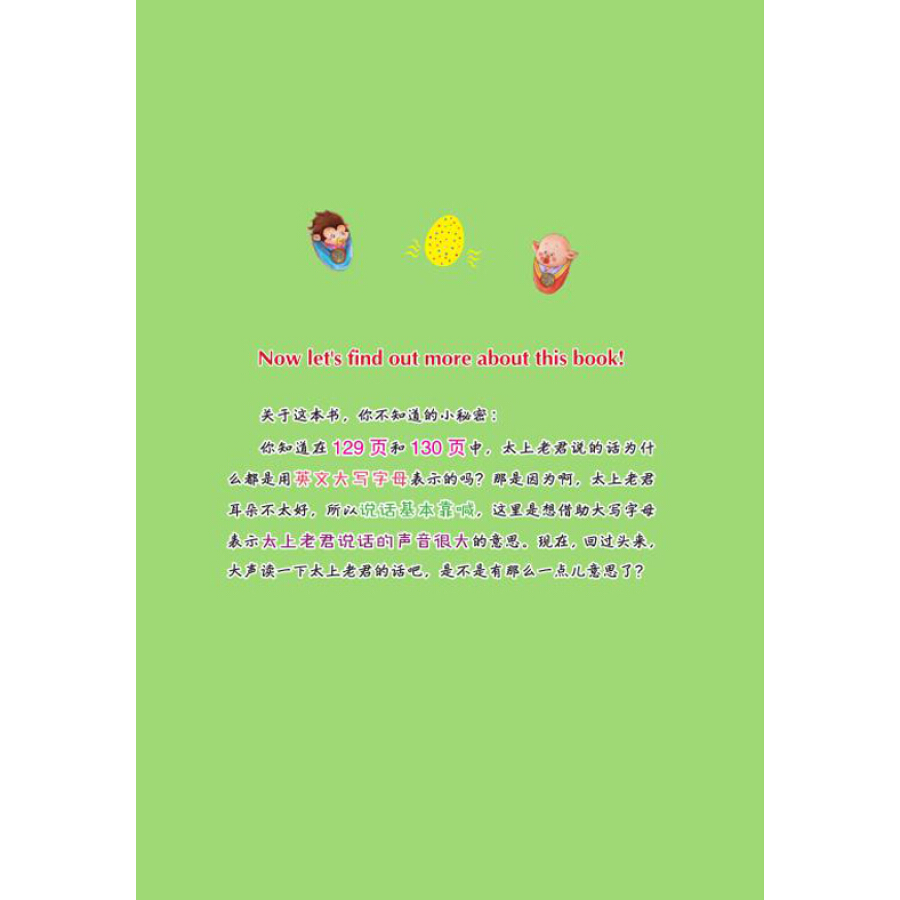 第一章 孙小圣出世!猪小能出世!
Chapter 1 The Son of the Monkey King is Born!
孙悟空保护唐僧去西天取回真经,自己也成了佛。从此再也没有什么妖怪要打啦,整天吃吃睡睡,挺无聊的。
The Monkey King, Sun Wukong, protected Xuan Zang on the Journey West to find the Sutras. Finally, Wukong became an Immortal as well. From then on, there were no more monsters to fight. Everyday, Wukong needed only to eat and sleep. So boring!
这一天,悟空忽听屋外有人喊:"猴哥!猴哥在家吗?"
One day, Wukong hears someone shouting outside his house: "Brother Monkey, are you home?"
"哈,是八戒来了,快请进!"
"Well, it is old Bajie come to visit! Come right in!" Wukong said cheerfully.
"嗯……我挤不进去,还是你出来吧。"
"Uh....I don't think I can fit. You'd better come out instead," whined Bajie.
猪八戒自从当了净坛使者,吃得更多,长得更胖,所以嫌悟空的门? 小,进不去啦。
After becoming the Cleanser of Altars, the greedy pig Zhu Bajie became fatter and fatter. One look at Wukong's door and he knew: it was too small.
悟空见了八戒,问他:"师弟,看来你的日子挺好过的?"
The Monkey King looked at the fat pig and said: "My brother, it looks like life has been good to you!"
八戒摸摸肚皮说:"嗯,还不坏。猴哥,你该向我道喜啦。"
Zhu Bajie rubbed his big belly and grunted: "Yes! Not bad at all! Brother, you should be congratulating me."
"哦?有什么高兴事儿?"
"Oh? What good news do you have?" asked Wukong.
"我马上要回高老庄去,我要当爸爸啦!"
"Soon, I will return to the Gao Family Manor. I'm gonna be a father!" explained Bajie.
没想到悟空听了这话,"唉——"长长地叹了一口气。
Unexpectedly, Wukong let out a long sigh: "Haaaaaaaaaaah....."
八戒不高兴了:"你,你这是什么意思?"
Zhu Bajie was surprised, "What—what do you mean by that?"
悟空说:"只是想到俺老孙乃是石猴,不能讨老婆生孩子,故而烦恼。"
"It's just that, I was born of stone. I can't ask a wife to give me a child," Sun Wukong explained.
八戒耷拉下耳朵,想了一想,说:"我有办法了。你别发愁,跟我走!"
Big ears drooping, Bajie thought for a minute and said: "I've got an idea, don't be upset! Just follow me!"
"哪里去?"
"Where to?" asked Wukong, confused.
"到那儿你就知道了!"
"You'll know when we get there," answered the snorting pig.
八戒拉着悟空驾起云头,转眼间越过好多山河城池。不多一会儿,来到一个国度。悟空仔细一看:城里城外都是妇女,没有一个男子汉。
Zhu Bajie took the Monkey King for a ride on a cloud. In the blink of an eye they passed over mountains, rivers, cities and lakes. Before long they arrived at a special city. Sun Wukong took a careful look and saw: the city was full of women! Not a man in sight.
"哦,这不是咱们取经路过的西凉女儿国吗?"
"Oh, isn't this the Kingdom of Daughters we passed on our Journey West to get the Sutras?" the Monkey King remembered.
"不错。城外有条河? ,咱们到河边去。"
"Not bad," exclaimed Bajie. "You're right! Do you still remember the river? Let's go there."
八戒领着悟空来到河边,见有一些年轻女子用瓢舀起河水喝下肚去。"还记得吗?这叫子母河。当年我和师父就是喝了这水,变成了大肚子。"
Zhu Bajie led Sun Wukong to a river outside of town with many women using big wooden spoons to scoop up the water and drink it. "Don't you remember, Wukong? This is the Mother and Son River. When we were last here, the Master and I drank from this river and our bellies grew full!"
"哦!"悟空恍然大悟,"你是让我也喝这水生孩子?"
"Oh, you can't mean you want me to drink from this river and have a child myself?" exclaimed the Monkey King.
"怎么样?"
"How about it?" asked the cheeky pig.
悟空犹豫了一下,终于下了决心:"好吧,为了有个后代,只好这么办了。不过我还是躲到云??中,免得被人笑话。"
Sun Wukong considered carefully for a time. Finally he made a decision:
"Fine, if this is the only way for me to have a child of my own, I'll do it! But I'd better hide on a cloud unless I want the women all to laugh at me," thought the Monkey King.
悟空"嗖"地跳上云头,藏起身来,对着子母河用力一吸,"嘘"的一声,顿时河水倒卷而上,被吸进悟空肚里。
And just like that, Wukong hopped up onto a cloud, turned to face the Mother and Son River and got ready to drink. With a great big SLLURRRRP! the Monkey King drank a big gulp of river water into his belly.
说来也怪,这水刚喝下,悟空的肚子就难受起来了。"哎哟,哎哟!快回去吧。"还没到家,肚子已经鼓起老高了。
As strange as it sounds, as soon as he had finished drinking, Wukong's tummy started to hurt.
"Oh! Oh no! We had better go back now," moaned Sun Wukong.Before they even reached his house, Wukong's belly had begun to grown larger and larger!