Sample Pages Preview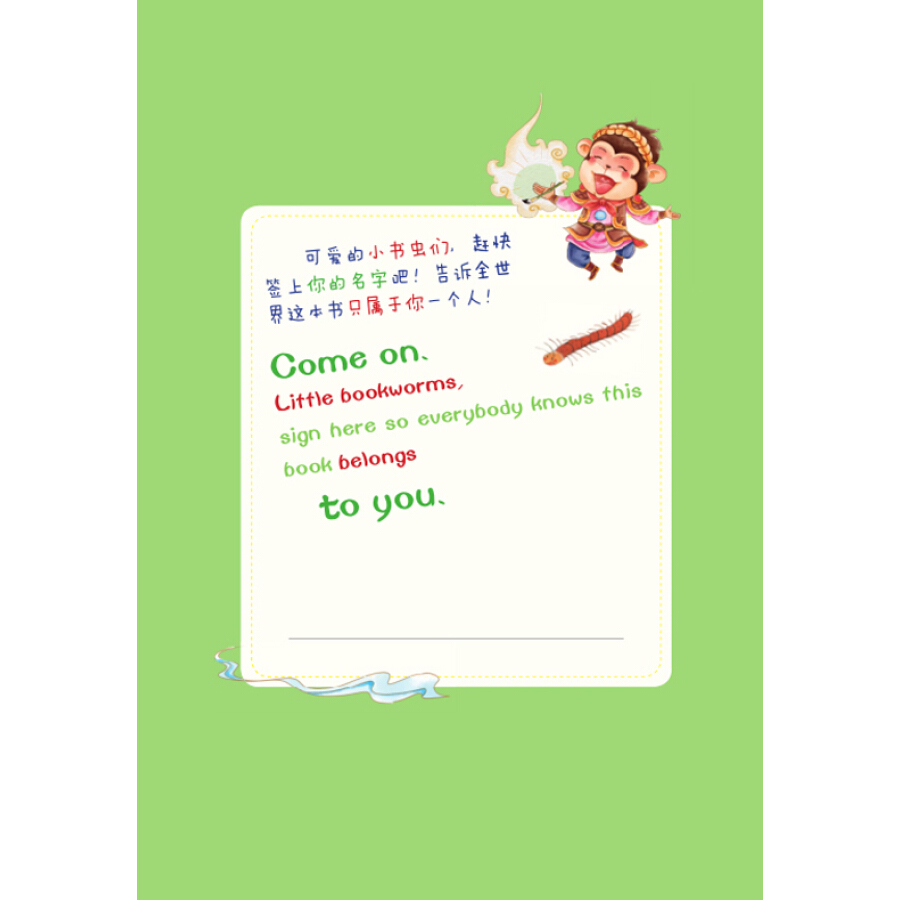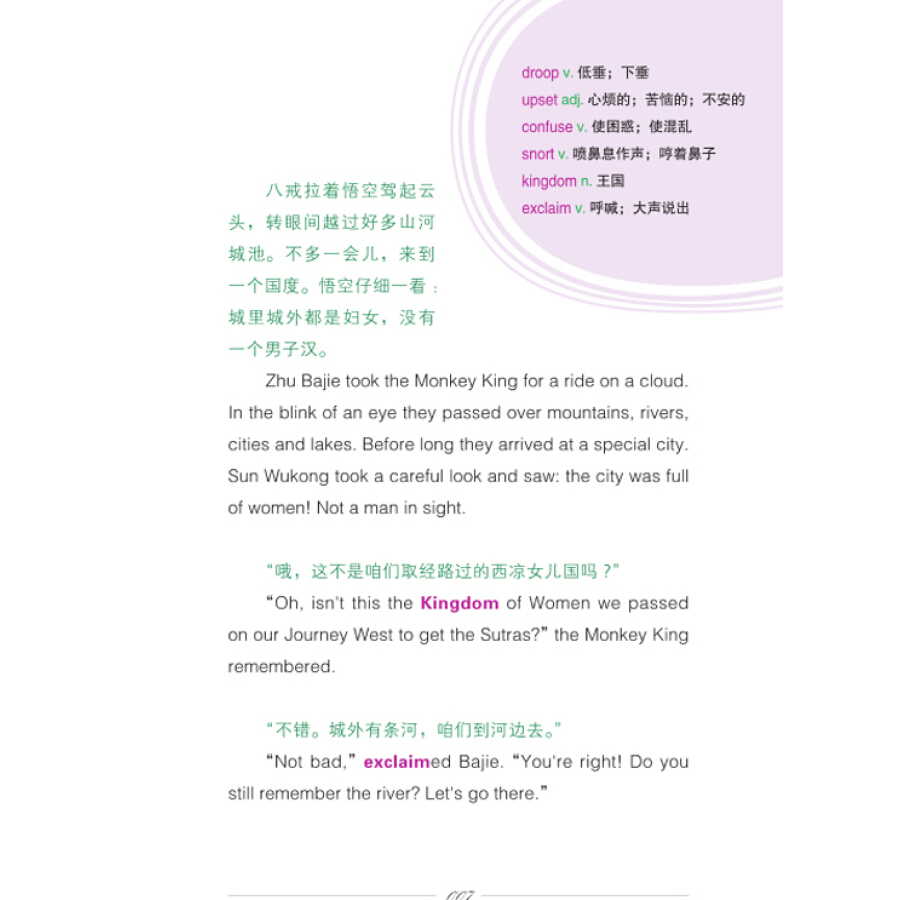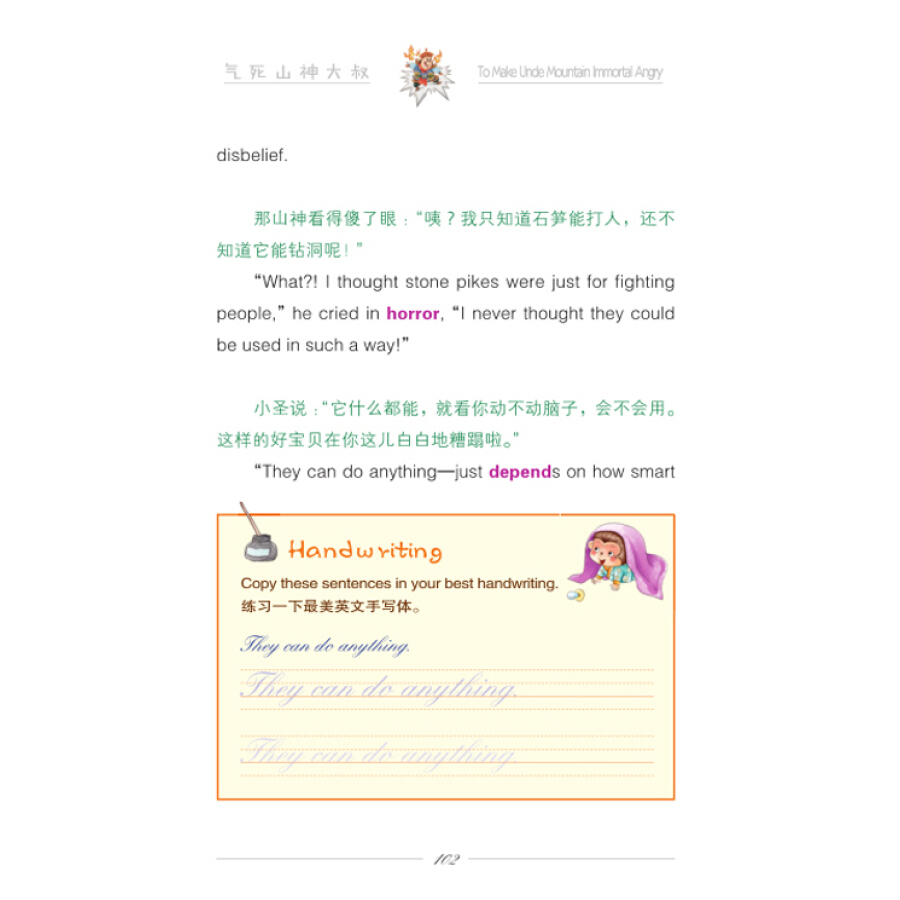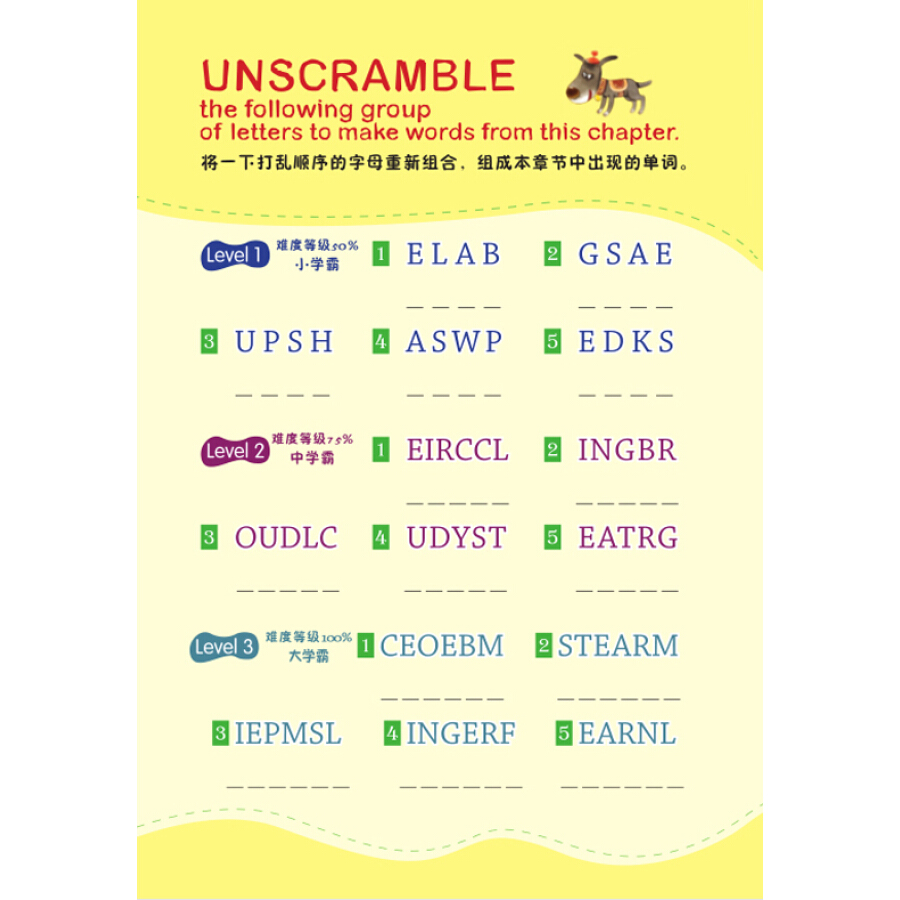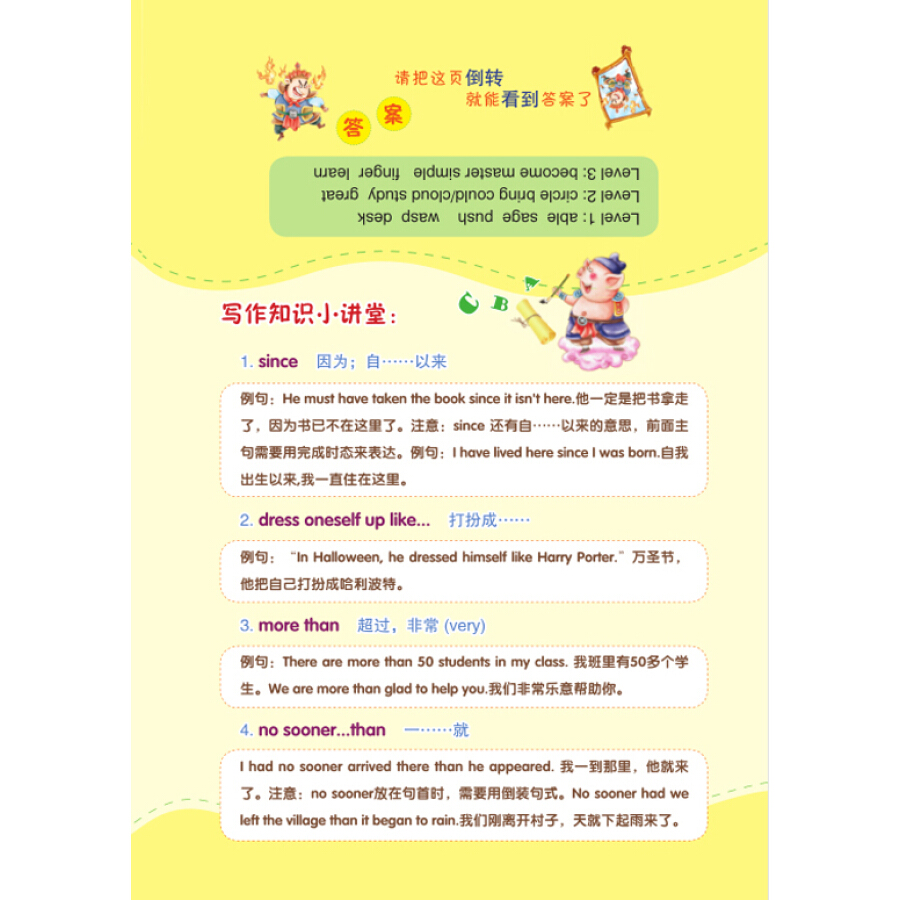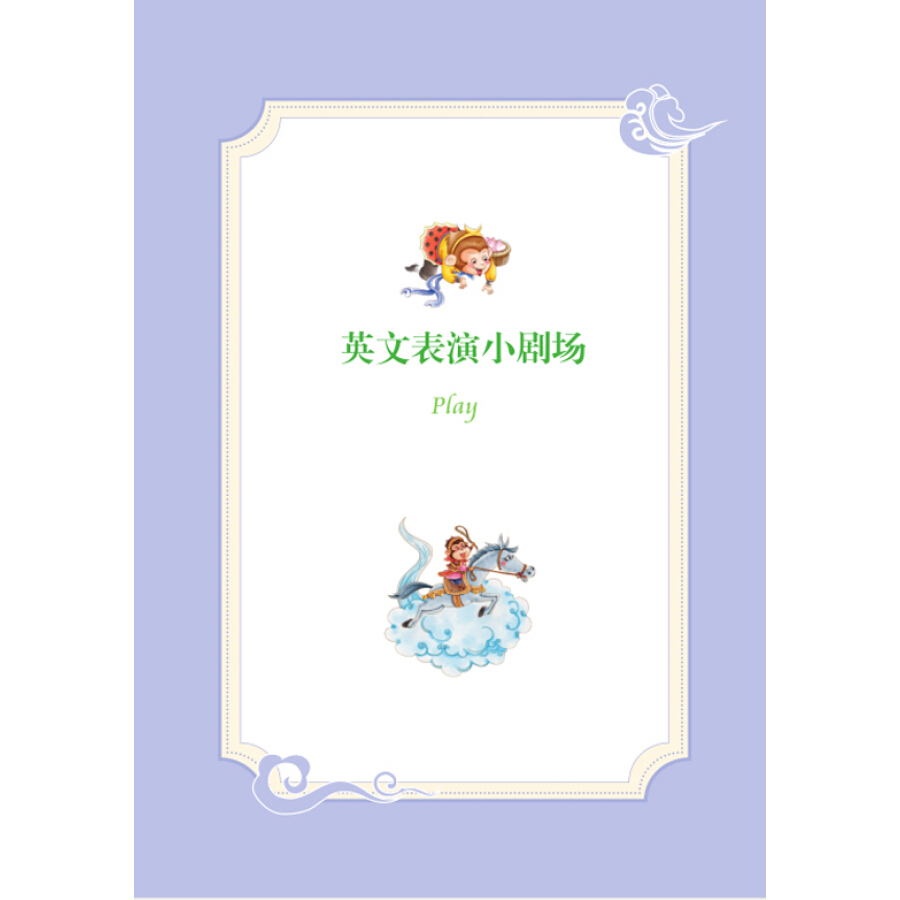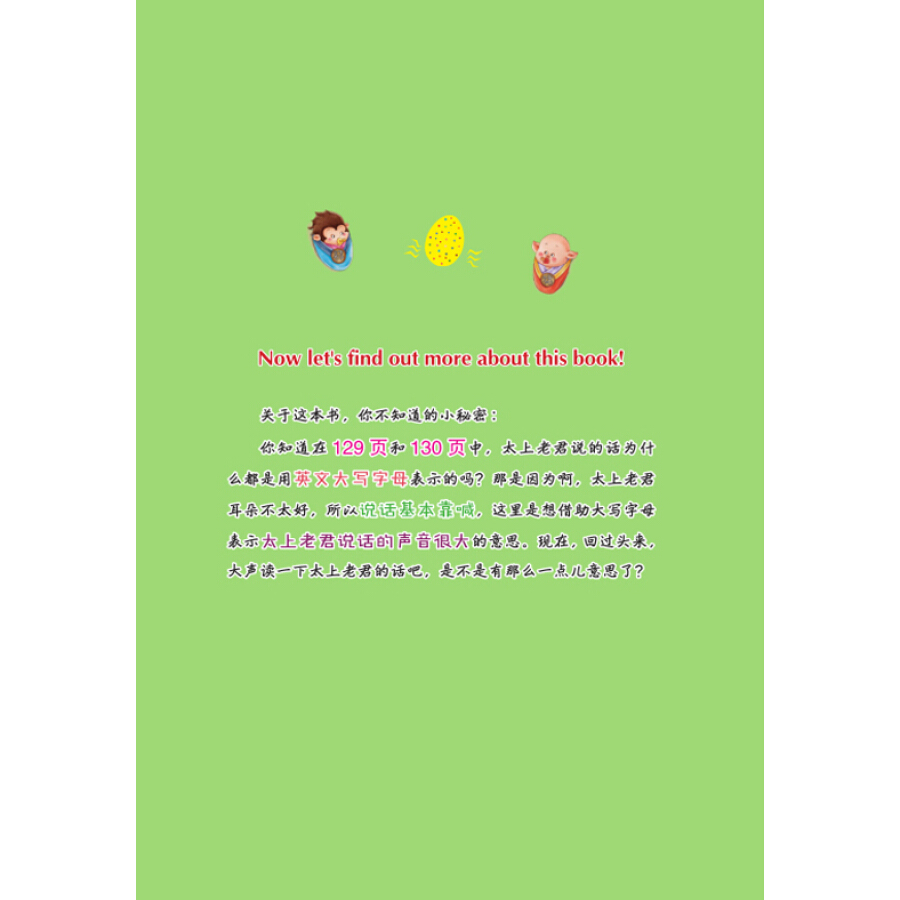 第一章 稀里哗啦,嘁里喀喳
Chapter 1: Pitter Patter Crack-a-lack! The Song of the Thunder Immortal!炉盖一开,丹房里顿时热得难受。小能长得胖,特别不耐热,还未进炉已经出汗了。他问老君:"要、要炼多长时间?"
The furnace opened, an unbearable heat rolled out. Little Able was fat and not very heat tolerant. Without even getting in the furnace he had begun sweating. He asked Lord Lao: "How long are we gonna stay in there?"
老君说:"过去要炼七七四十九天。经过技术革新,现在只用三天就行啦。"
"IN THE PAST, IT WAS 49 DAYS," answered Lord Lao, "THANKS TO RECENT INNOVATION, 3 DAYS IS ENOUGH NOW."
可是三天也很难熬呢。炉里的三昧真火,烧得小哥儿俩由红变黄,由黄变蓝,由蓝变紫……一共变了七次颜色,最后变得浑身焦黑。
Three days was bad enough, however. The flames inside burned so hot, the young brothers turned from red, to yellow. Yellow to blue. Blue to purple. In all they changed colours 7 times until they were black as soot.
三天期满,打开炉盖,小圣和小能迫不及待地蹦了出来:"哎呀,憋死啦!"
At the end of the 3 days, the lid opened. Little Sage and Little Able could hardly wait to get out, screaming: "HAA! Can't Breathe!"
老君用一把宝剑指着小哥儿俩,剑头喷出的神火在他俩身上滚了几圈,浑身的黑色全都褪去。
High Lord Lao pointed at the boys with a sword and it sprayed a magical fire that wrapped around them several times, cleaning all of the soot off of them.
"好啦,这样的身子,再不用怕火了。"老君将小圣和小能送出门,"要想对付冰冻,可以去找太乙真人,他的九阳化阴丹很管用。"
"THERE YOU GO. FROM NOW ON, YOU NEED NOT FEAR FIRE," Lord Lao told them as he escorted them out.
"IF YOU NEED TO GUARD AGAINST FREEZING, YOU CAN GO FIND TAI YI THE ENLIGHTENED," the High Lord Lao suggested to the boys, "HIS MEDICINE WORKS FOR THAT."
小哥儿俩向老君道了谢,告了别,再去拜访太乙真人。
The two boys said their thanks and bid farewell to Lord Lao, and set off to visit Tai Yi the Enlightened.
二人正驾云赶路,忽然远远地听见大嗓门儿的雷神在发脾气。
Flying quickly upon clouds, they suddenly heard in the distance, the huge-voiced Thunder Immortal making a fuss.
小圣便想去看看是怎么回事。小能说:"别管闲事,赶路要紧。"
Little Sage wanted to go see what was the matter, but Little Able told him: "Don't get involved in other people's business. We're in a hurry!"
但小圣一定要管闲事,小能也只得陪着。
But Little Sage couldn't help getting involved. Little Able had no choice but to follow him.
"雷神大叔,"小圣上前打招呼,"怎么把雷车停在这儿?"
"Uncle Thunder Immortal," Little Sage greeted the loud immortal, "Why have you stopped your Thunder Cart here?"
"别提了,你瞧,"雷神没好气地朝下一指,"这边的一只雷车轮子掉到海??里去了。我马上要接风伯、雨师、电母、云童去北方行雨,真要命!"
"Don't remind me. Just look at it!" the Thunder Immortal angrily pointed downward, "The wheel on this side fell off into the sea. I have to take Uncle Wind, Master Rain, Mother Lightning, and Little Cloud north to start the rains. What a pain!"
小圣便自告奋勇:"我下海一趟,替您把轮子捞上来,保管不误事。"
Little Sage volunteered: "I'll go down into the sea and help you bring back the wheel, otherwise you'll be delayed."
小能扯了一下小圣,悄悄说:"那太乙真人那儿还去不去了?"
Little Able poked him and whispered: "Are we still going to see Tai Yi the Enlightened?"
小圣说:"先把雷车轮子捞上来再说吧。"
Let's talk about it after we find that wheel." Little Sage answered.
站在高高的云端低头看,下面便是滔滔的东海。小圣故意激一激小能:"敢往下跳吗?"
Standing atop a cloud way up in the sky, the sea looked like it was surging and churning. Little Sage deliberately challenged Little Able: "Are you brave enough to jump in?"
小能怎肯当孬种:"嗯……你敢我也敢!"
"Uh.....if you are, I am!" No way Little Able was gonna play the coward.
于是由雷神发令:"各就各位,预备——跳!"
Then the Thunder Immortal called out: "On your marks, get set—jump!"