Details
China is a great civilization, and boasts vast territories,abundant resources and time-honored history. Sinceentering into the new century, she has been attractingmore and more attention, and presenting her pastglamour and brilliance to the world. The boomingeconomy of modern China and the cultural gem of ancient China have already become topics people arekeen to understand and study in an in-depth way.<br/>
<br/>
In the process of over 60 years since its founding, the China Architecture & Building Press, a nationalscience publishing institution, has been devoted to promoting and disseminating the outstandingarchitectural culture of the Chinese nation, pushing the progress of Chinese architectural technology, and presenting Chinas achievements in constructionin all ages to the world. Shouldering the mission of" carrying forward the fine traditional Chinese culture,and strengthening the international influence of the Chinese culture," the China Architecture & Building Press has, since the 1980s, paid great importance to communication and cooperation with our counterpartsat home and abroad on architectural culture, planned, compiled and published a series of academic books and albums about traditional Chinese architecture, bringing about a wide influence on the public. <br/>
  The Series of 100 Gems of Chinese Architecture is completed as a result of over 100 Chinese experts and scholars' careful survey and concentrated study on representative ancient and traditional buildings with historical significance throughout China. Afteryears of systematic and scientific review, the series of books is compiled according to such themes and categories as architectural concept, architecturalelement, palatial architecture, ritual architecture,religious architecture, historic towns and villages, folkarchitecture, burial structures, gardens, academies of classical learning, guildhalls and other buildings. These books are divided into different volumes basedon their themes, and contain rich contents about the historical background, architectural style, architecturalfeatures, and architectural culture, attached withexcellent photos and line drawings. The series consistsof 100 volumes, about 2,000,000 Chinese charactersand over 6,000 photos and drawings.The books boast concise descriptions, a wealth of photos and drawings, and elegant design. Easy-to-understand and handy, they are popular booksincorporating both professional and cultural elements and suitable for readers from home and abroad. They will provide those who love Chinese culturewith an opportunity to appreciate and understand the unique style of traditional Chinese architecture, characteristic design methods, exquisite architectural skills, and ingenious processing of details, record the rememberable heritage buildings for the world architectural community, and open a window for domestic and overseas readers to access the architectural knowledge and art. <br/>
<br/>
The series will be released in both Chinese and English versions, and ~ be a valuable resource for researchers, enthusiasts and travelers from home and abroad who are interested in historic buildings.
Table of Contents
Ⅰ.The Mountain Resort was Built for Temporary Stays of Emperors and Consolidation of Borders
Ⅱ.The Principle was Set by Imperial Edict for the Construction in the Area Richly Endowed by Nature
Ⅲ.Appropriately Planned, the Mountain Resort Materialised the Idea of Gathering Highlights
Ⅳ.Of the Nine Rows of Structures Making up the Large scale Complex, Nanmu Hall is of the Greatest Prominence
Ⅴ.The Mountain Resort Concentrates the Highlights of Famous Gardens, Retaining More Charm than Form
Ⅵ.The Structures Built in the Mountain Areas were in Harmony with Their Natural Surroundings
Ⅶ.The Opera Theatres and Grand Imperial Yurt
Ⅷ.The Rise and Fall of the Mountain Resort A Chronology of Signiflcant Events
Sample Pages Preview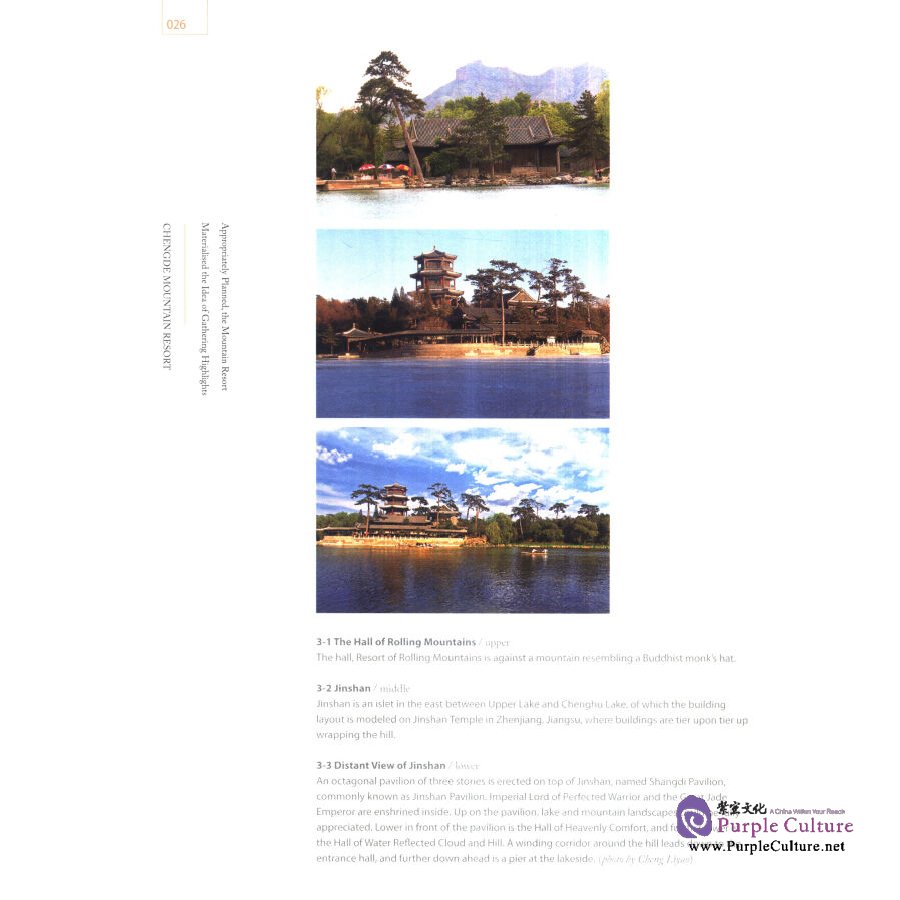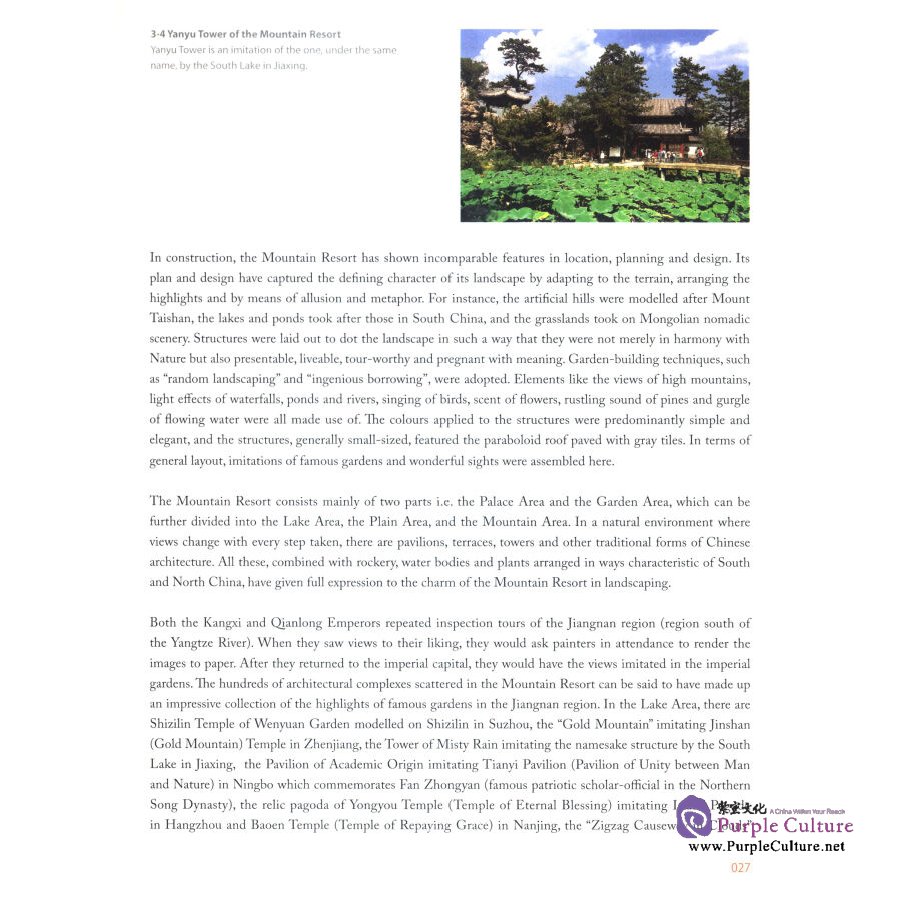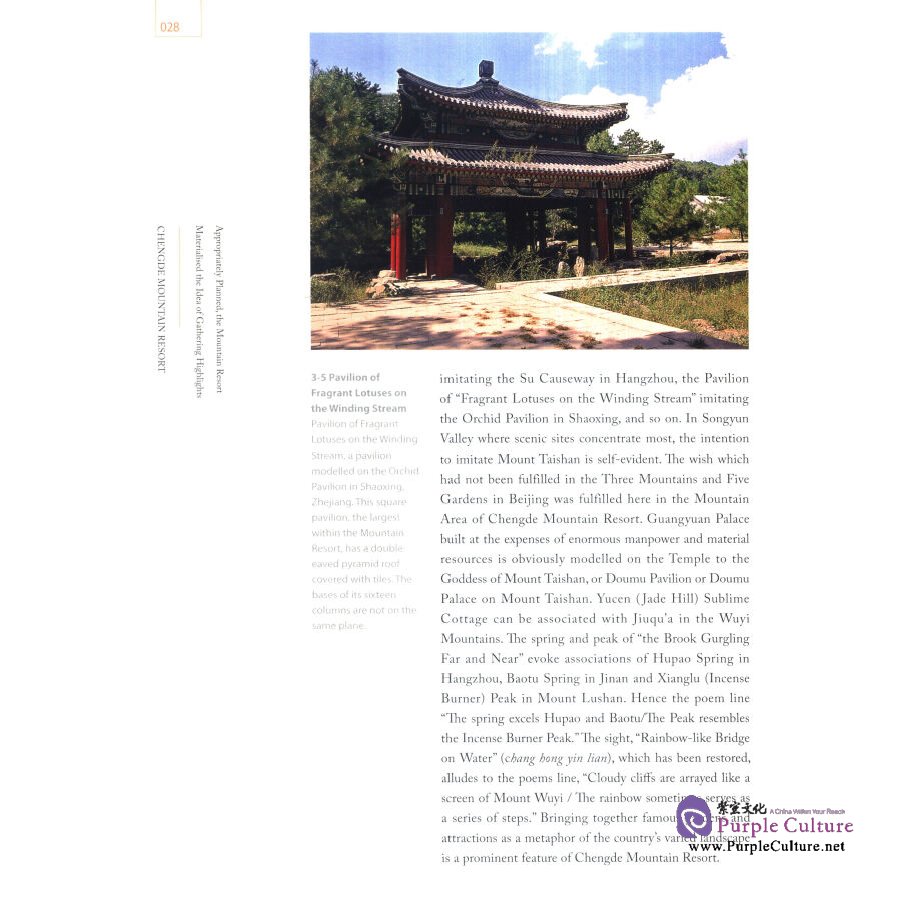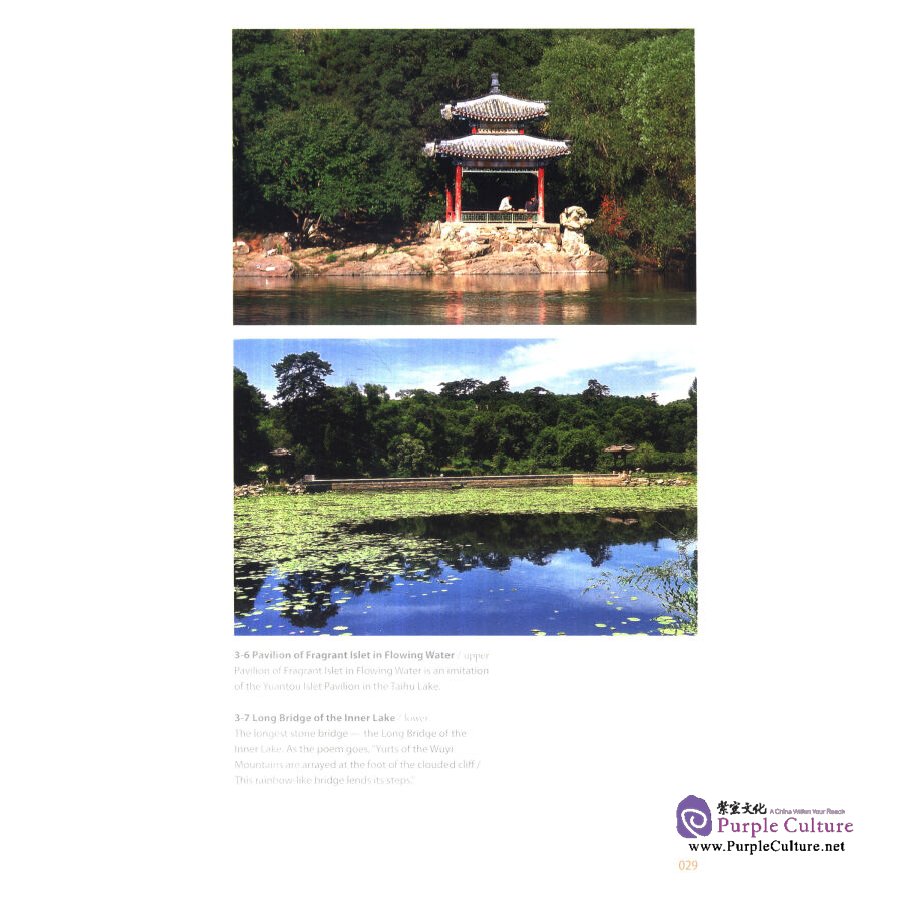 The Series of 100 Gems of Chinese Architecture: Chengde Mountain Resort
$13.71