---
Language: English
Page: 150
Publication Date: 10/2010
ISBN: 9787313067739,7313067739
Details
This publication aims to provide a comprehensive and up-to-date overview
of highereducation in China. It aims to constitute a valuable resource
for students, scholars, andpolicy makers for understanding higher
education in the world's most populous country.This report is the result
of a partnership established between the World BankHuman Development
Network and Shanghai Jiao Tong University's Graduate School of Education
to collect and disseminate information on higher education in China.
Table of Contents
Acknowledgments
Glossary
Chapter 1 China —— Country Profile
Geography and Demographics
Contemporary Society and Culture
Administrative System
The Provinces
Chapter 2 The Chinese Education System - History
Introduction
Educational Legacies and Values
History and Evolution
Ancient and Imperial Era (1100BC-1840AD)
Modern Era (1840 - 1948)
Post-revolution Era ( 1949 - 1966)
Cultural Revolution" Era (1967 - 1978)
New Era ( 1978 - present day)
Chapter 3 The Contemporary Chinese Higher Education System Introduction
Overall Structure of the National Education System
Educational Standards
National HEIS and Local HEIS
Universities, Colleges, and Vocational Colleges
The "211" and 985 Projects
Financing and Tuition Fees
Governance of Higher Education in China
Administration
Admission Policies and Procedures
Enrollment Quotas —— The Jihua
Pathways to Enrollment
Quality Assurance
The Private and Independent Sectors
Private Institutions
Independent Colleges
Chapter A Data and Analysis: Students and Education
Indicator A1 Students
Chart A1.1 Number of Students Enrolled in Tertiary Education, 1988 - 2008
Chart A1.2 Number of Putong Undergraduate Students, 1949 - 2008
Chart A1.3 Numbers of Zhuanke and Benke Undergraduate Students, 1988 - 2008
Chart A1.4 Number of Putong Undergraduate Students (Zhuanke vs Benke), 1988-2008
Chart A1.5 Proportion of Postgraduate Students in Tertiary Education, 1988 - 2008
Chart A1.6 Number of Adult Undergraduate Students, 2002 - 2008
Chart A1.7 Proportion of Foreign Students in Tertiary Education, 2005 - 2008
Chart A1.8 Origin of Foreign Students Enrolled in Tertiary Education, 2008
Chart A1.9 Sources of Financial Support of Foreign Students, 2008
Chart A1.10 Participation Rate at All Education Levels, 1990 - 2008
Chart A1.11 Distribution of Students across All Types of Programs, 2008
Indicator A2 Institutional Diversification
Chart A2.1 Proportion of Students Enrolled in Open Courses, 2005 - 2008
Chart A2.2 Proportion of Putong Undergraduate Students Enrolled in Non-public Institutions, 2004 - 2008
Chart A2.3 Student Composition of Independent and Private Institutions, 2008
Indicator A3 Financing
Chart A3.1 Total per Student Spending on Tertiary Education, 2005 - 2007
Chart A3.2 Total per Student Spending on Tertiary Education by Type of Institution, 2007
Chart A3.3 Tuition Fees Compared to Median Income, 2008
Indicator A4 Faculty
Chart A4.1 Size of Faculty, 2002 - 2008
Chart A4.2 Proportion of Faculty with a PhD, 2004 - 2008
Chart A4.3 Proportion of Female Faculty, 2003 - 2008
Chart A4.4 Proportion of Female Faculty by Rank, 2008
Chart A4.5 Number of Foreign Teachers, 2004 - 2008
Indicator A5 Access
Chart A5.1 Proportion of Female Students in Tertiary Education,1997 - 2008
Chart A5.2 Proportion of Female Students by Study Level, 2008
Chart A5.3 Socio-economic Patterns of Students (Based on Father's Occupation), 2005
Indicator A6 Regional Balance
Chart A6.1 Number of Students in Tertiary Education by Province, 2008
Chart A6.2 Growth of Annual Undergraduate Student Enrollment by Province, 1998 - 2008
Chart A6.3 Growth of Annual Postgraduate Student Enrollment by Province, 2003 - 2008
Chart A6.4 Public Funding per Student, at Nationally and Provincially
Administered Tertiary Institutions, 2007
Chart A6.5 Academic Qualifications of Faculty, 2007
Chart A6.6 Putong Undergraduate Education Admissions Ratesby Province, 2009
Chart A6.7 Number of Foreign Tertiary Students by Province,2008
Chapter B Data and Analysis: Graduates
Indicator B1 Attainment and Employment
Chart B1.1 Proportion of Graduates with a STEM Degree,2001 - 2007
Chart B1.2 Proportion of the Working Population with a Tertiary Degree, 2002 - 2007
Chart B1.3 Proportion of Unemployed Adults with a Tertiary Degree, 2002 - 2008
Indicator B2 Quality and Relevance
Chart B2.1 Completion Rates of Undergraduate Students,2004 - 2008
Chart B2.2 Completion Rates of Postgraduate Students,2003 - 2008
Chart B2.3 Number of Bachelor's Graduates Pursuing
Postgraduate Studies, 2004 - 2008
……

Chapter C Date and Analysis:Research
Chapter D Date and Analysis Governance
Date Sources
Notes
Appendix
References
Sample Pages Preview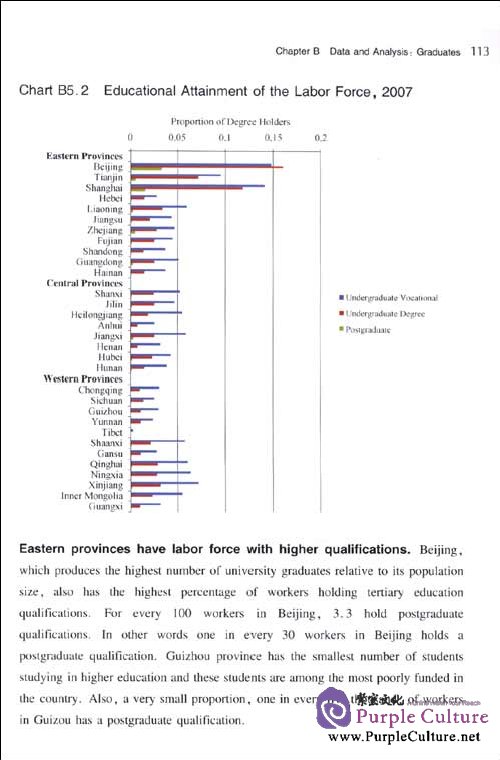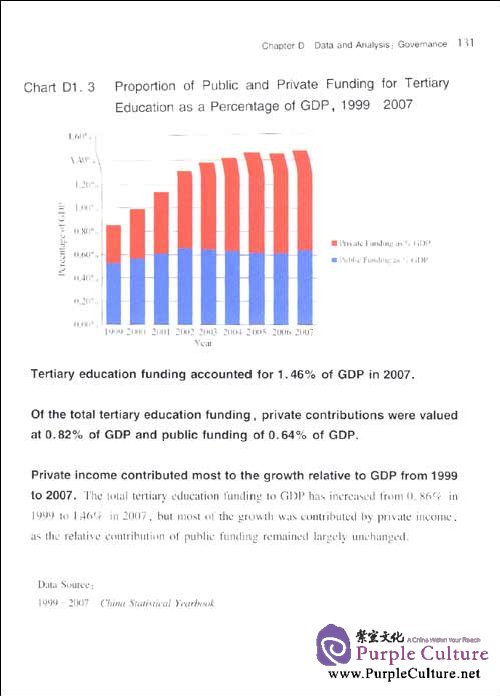 Existing public and private institutions were dismantled and systematically re-established toincludeanumberofcomprehensiveuniversities;teacher'suniversities; and engineering, political science and law, finance and economics,foreign language,finearts,physicaleducation,agriculturalandmedicalinstitutions. The most prestigious were administered directly by the Ministry ofHigher Education, while others were managed either at the provincial level or byother national government ministries. Furthermore, Soviet academic materials weretranslated to be used as primary references for learning.Higher education institutions were to strictly follow the state's unified plans and, ineffect, students represented goods in the centrally planned economy.Everyprocess, from admissions to curriculum development, instruction to student joballocation, was uniform and centralized. The leaders of higher education institutionswere governmental bureaucrats appointed by the relevant authority and assignedbureaucratic rank.Govemment ministries responsible for functions such astransport, agriculture, and health created specialized universities to meet themanpower needs of a specific sector. Thus, the Chinese higher education systembecame more departmentalized and segmented under the different central lineministries. Similarly, provinces operated the institutions under their control inaccordance with local needs.
Preface
With over 30 million students and over 2,600 universities and colleges, China hasbecome the world's largest provider of tertiary education; yet its participation rate intertiary education is still only 23%. Every year, millions of applicants sufferrejection from universities and colleges, in many instances because of limited placesavailable. With a culture that emphasizes the importance of education, the pursuitof education of the highest quality and to the highest levels possible is activelypromoted, and the potential for growth in the tertiary sector of the country remainsenormous. Furthermore, China has displayed a resilient commitment not only toexpanding the system, but also to investing in improving quality across the systemand especially at its best institutions, in the pursuit of the status of world-classuniversities. There is no doubt that interest in Chinese tertiary education will onlygrow as the country becomes an increasingly important player on the world'seconomic stage.
Despite this dramatic transformation and the amount of attention China gets in theglobal media and international academic communities, Chinese tertiary education israrely studied, let alone understood, by researchers outside the country. The lack ofaccessible and reliable information poses a major obstacle to internationalcomparative studies and exchange of information on tertiary education in China.
Tertiary Education at a Glance: China 2010
$8.60