This book is the fruit of a lifetime study on Buddhism made by Zhao Puchu. In the form of questions and answers, the book addresses and answers most of the questions raised by Buddhism over the past 2,500 years; Provides the laymen readers a proper introduction to Buddhism, while giving to the scholars inspiration and points of entry into in-depth study of Buddhism and furnishes non-Chinese native speakers a comprehensive outline of Buddhism.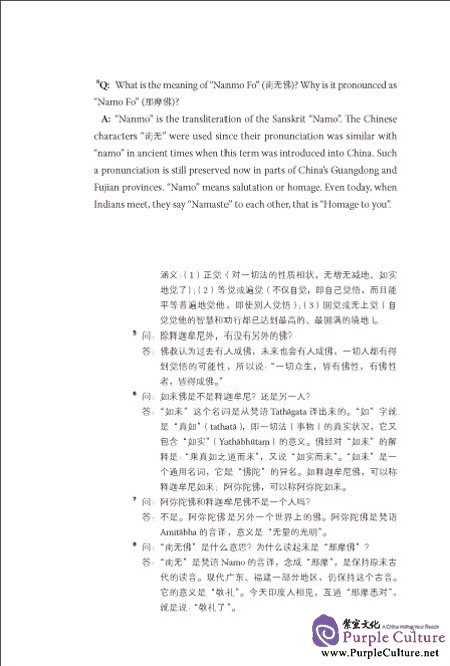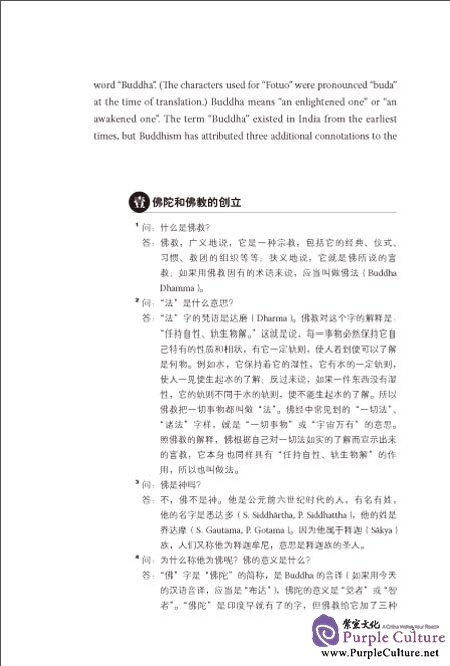 19Q: There were a lot of people in history engaged in the translation andpropagation of Buddhist scriptures aside from those mentioned above.Could you name a few more prominent figures?
A: The course of translating Buddhist scriptures into Chinese lasted10 centuries (from the 2nd to the 11th century), and resulted in over1,690 texts of Tripi.taka being translated, totaling more than 6,420volumes, with no less than 200 famous Chinese and foreign translatorsinvolved. In addition to the above-mentioned characters, well-knownare Dharmarak.sa, Buddhabhadra, Bodhiruci of India, J(n)ānagupta andDānapāla of Pakistan, Pa(n)(n)ā of Afghanistan, Mandra and Safighap(n)la ofCambodia, as well as Tripi.takācārya, Amoghavajra from Sri Lanka, whopropagated Tantric Buddhism. Through the persevering, industriousefforts of so many people, the Buddhist theories of the Sāvakayāna,Dhammatā, Lak.sa.na, Exoteric and Esoteric Schools were introduced intoChina, thereby forming the enormous treasures of Chinese Buddhism.In 1954, Mao Dun, Chairman of the Chinese Writers' Association, in hisaddress to the All-China Conference of Literary Translation Workers,said, "The translation work of our country has a long history and a glorious heritage.The conscientious scientific approach of translationcreated by our predecessors in translating the Buddhist scriptures andtheir outstanding achievements are worthy of our pride and should beacknowledged as our models: Undoubtedly, the translation work ofancient China created a great spiritual heritage in the magnificent cultureof the Chinese people which is beyond compare in the whole world. It isone of the splendid cultural traditions of which we are proud.
by R.F. on 2014-09-17 13:30:58
This is an excellent primer on Buddhism in general, and Chinese Buddhism in particular, by an eminent Chinese Buddhist layman, Mr Zhao Puchu. The translation is fluid and of a high standard. Furthermore the work has been cross-referenced with English works, and Sanskrit and Pali terms are also provided, making this bilingual Chinese-English edition very useful for those studying Chinese Buddhism, and accessorily, the Chinese language.