"Tales from China's Classic Essential Readings is a series of four books offering a selection of popular tales from the Three Character Classic, Hundred Family Surnames, Thousand Character Classic, and Children's Knowledge Treasury. The tales are introduced in simple and concise, yet interesting language. Through the books, the readers will become acquainted with Chinese culture and history as well as traditional Chinese thinking, morality, and ethics. This series is suitable for young readers and anyone who would like to know about Chinese history and culture.
This series boast the following features:
 Concise and lively stories in both Chinese and English to enable readers of different Chinese levels to gain a thorough understanding.  
 Original classic texts were included with pinyin transcriptions to help readers with pronunciation while enjoying classic Chinese writings.
 Each story is accompanied by illustrations in artistic Chinese styles.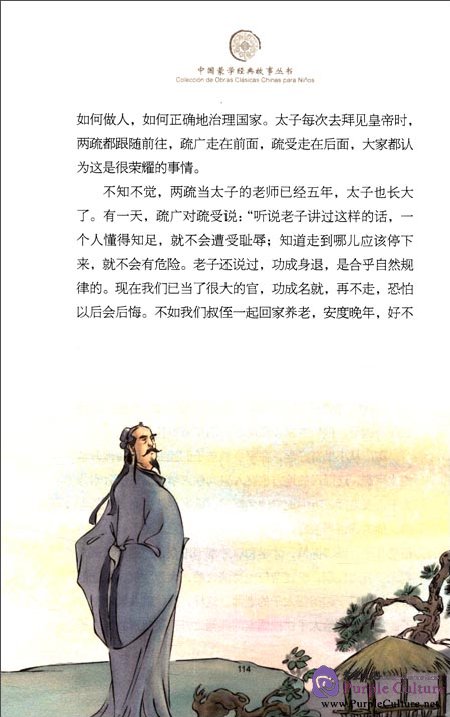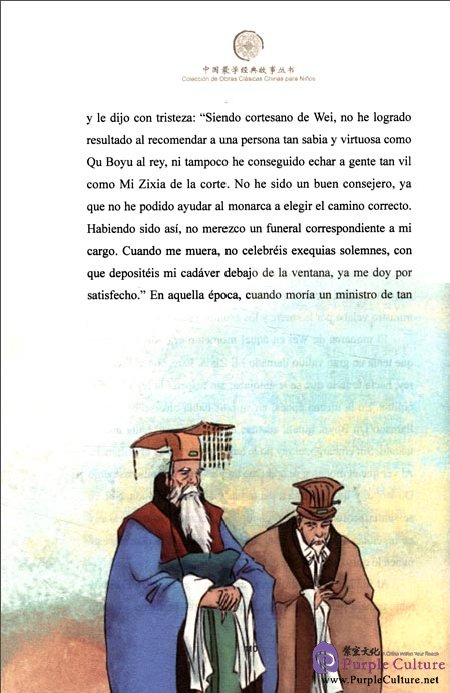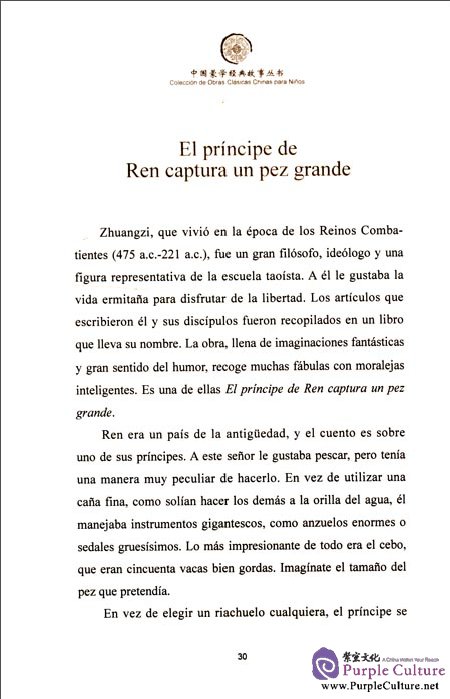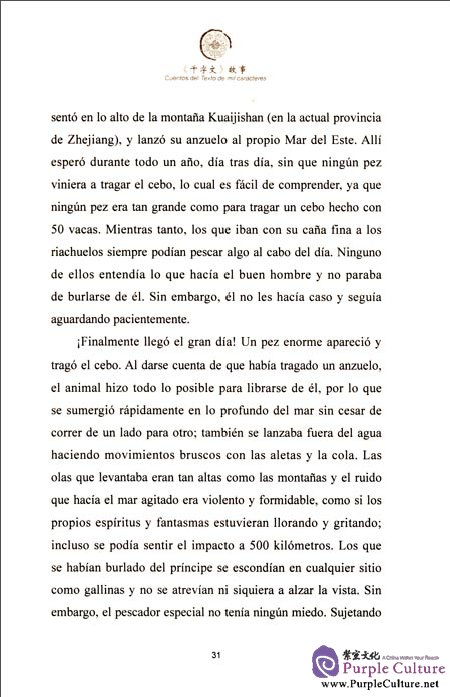 Zhuangzi, que vivio en la epoca de los Reinos Comba-tientes (475 a.c.-221 a.c.), fue un gran filosofo, ideologo y una figura representativa de la escuela taoista.A e1 le gustaba lavida ermitana para disfrutar de la libertad.Los articulos que escribieron e1 y sus discipulos fueron recopilados en un libro que lleva su nombre.La obra, llena de imaginaciones fantasticas y gran sentido del humor, recoge muchas fabulas con moralejas inteligentes.Es una de ellas El principe de Ren captura un pez grande. 
Ren era un pais de la antiguedad, y el euento es sobre uno de sus principes.A este senor le gustaba pescar, pero tenia una manera muy peculiar de hacerlo.En vez de utilizar una carla fina, como solian hater los demas a la orilla del agua, e1 manejaba instrumentos gigantescos, como anzuelos enormes o sedales gruesisimos.Lo mas impresionante de todo era el cebo, que eran cincuenta vaeas bien gordas.Imaginate el tamano del pez que pretendia.