---
Language: English
Page: 346
Publication Date: 02/2012
ISBN: 9787508522326,750852232X
Details
Outlaws of the Marsh, One of the best known and best loved of the ancient Chinese novels which have come down through the ages, written in the fourteenth century, is a fictional account of twelfth-century events in the final years of Hui Zong, a Song Dynasty emperor who reigned from 1101 to 1125. It tells why and how one hundred some-old men and women are forced by the harsh feudal officialdom and banded together on a marsh-girt mountain, became leaders of an outlaw army of thousands and fought brave and resourceful battles against pompous, heartless tyrants.
Table of Contents
CHAPTER 1
Demons Including Heavenly Spirits and Earthly
Fiends are Released

CHAPTER 2
Sagacious Lu Throws Peach Blossom Village
into Confusion

CHAPTER 3
Lin Chong Goes to Mount Liangshan
in the Snowy Night

CHAPTER 4
Yang Zhi Sells His Sword in the Eastern Capital

CHAPTER 5
Wu Yong by a Ruse Captures the Birthday Gifts

CHAPTER 6
Three Ruan Brothers in the Village of Stone Tablet

CHAPTER 7
Lin Chong Kills Wang Lun

CHAPTER 8
Song Jiang Slays Poxi in a Fit ofAnger

CHAPTER 9
Wu Song Kills a Tiger on Jingyang Ridge

CHAPTER 10
Pan Jinlian Carries on a Clandestine Love Affair

CHAPTER 11
Wu Song Avenges at Lion Bridge Tavern

CHAPTER 12
Wu Song Beats Jiang the Gate Guard Giant

CHAPTER 13
General Zhang's Blood Spatters the
Duck and Drake Bower

CHAPTER 14
Hua Rong Turns Topsy-turvy Clear Winds Fort

CHAPTER 15
The Thunderbolt Qin Ming

CHAPTER 16
Song Gongming is Tattooed with the
Mark ofHis Exile to Jiang zhou
……
CHAPTER 17
CHAPTER 18
CHAPTER 19
CHAPTER 20
CHAPTER 21
CHAPTER 22
CHAPTER 23
CHAPTER 24
CHAPTER 25
CHAPTER 26
CHAPTER 27
CHAPTER 28
CHAPTER 29
CHAPTER 30
CHAPTER 31
CHAPTER 32
CHAPTER 33
CHAPTER 34
CHAPTER 35
CHAPTER 36
CHAPTER 37
Sample Pages Preview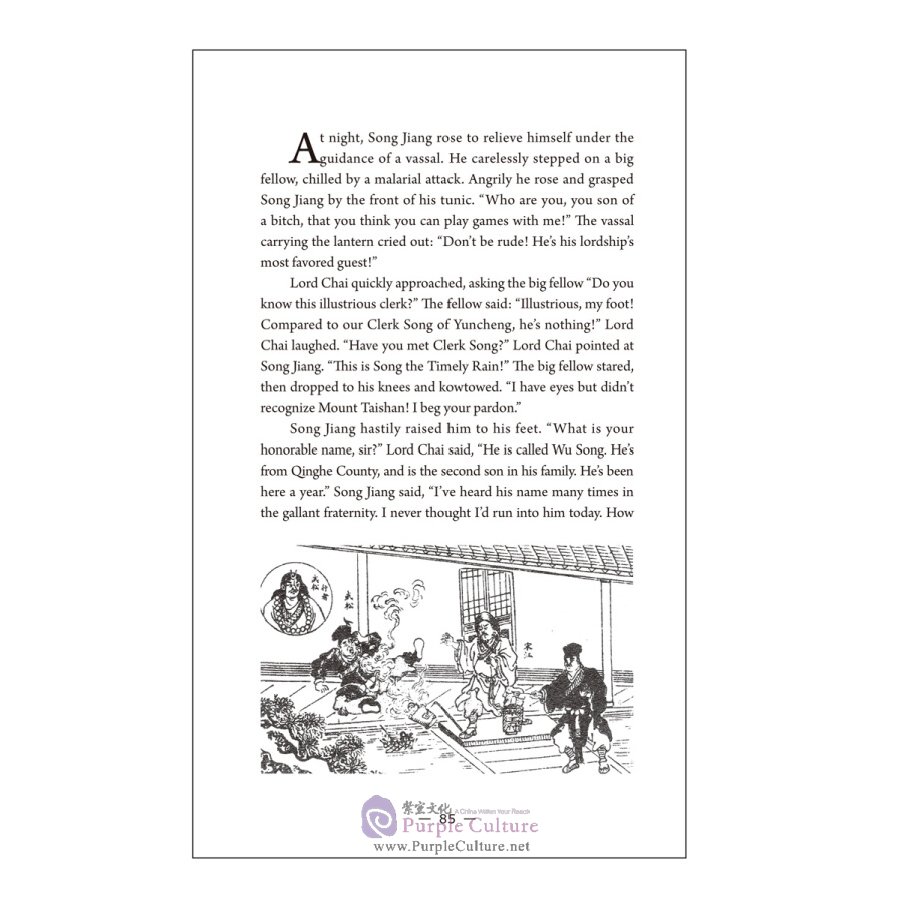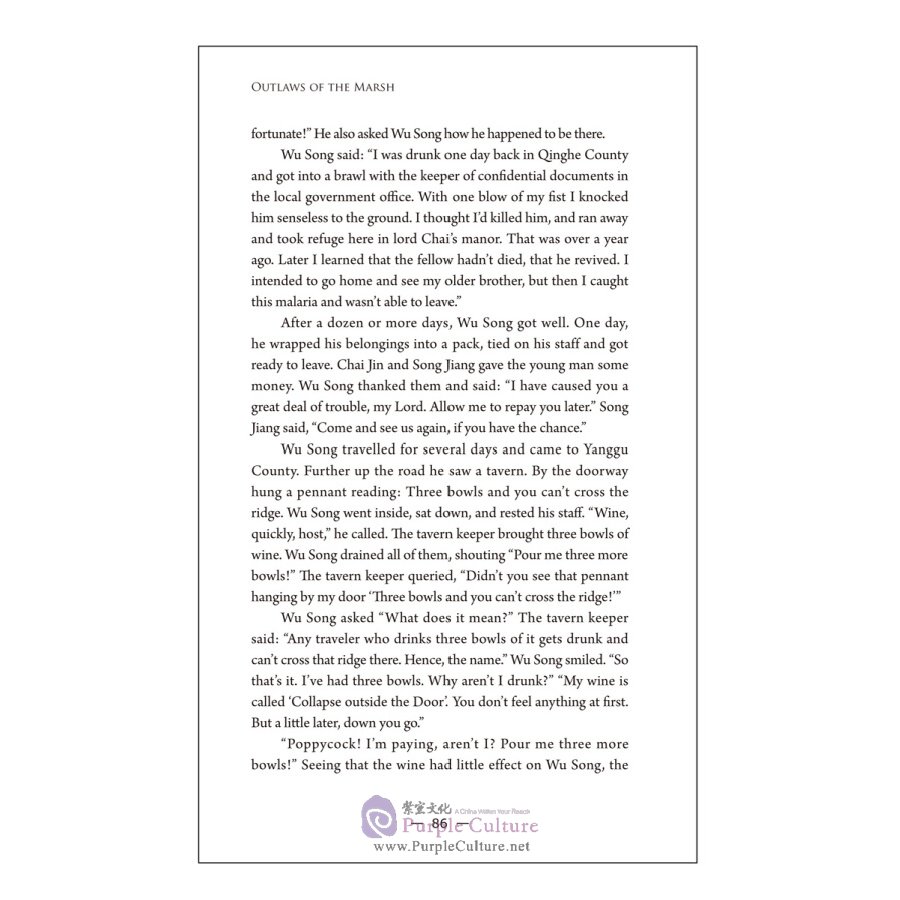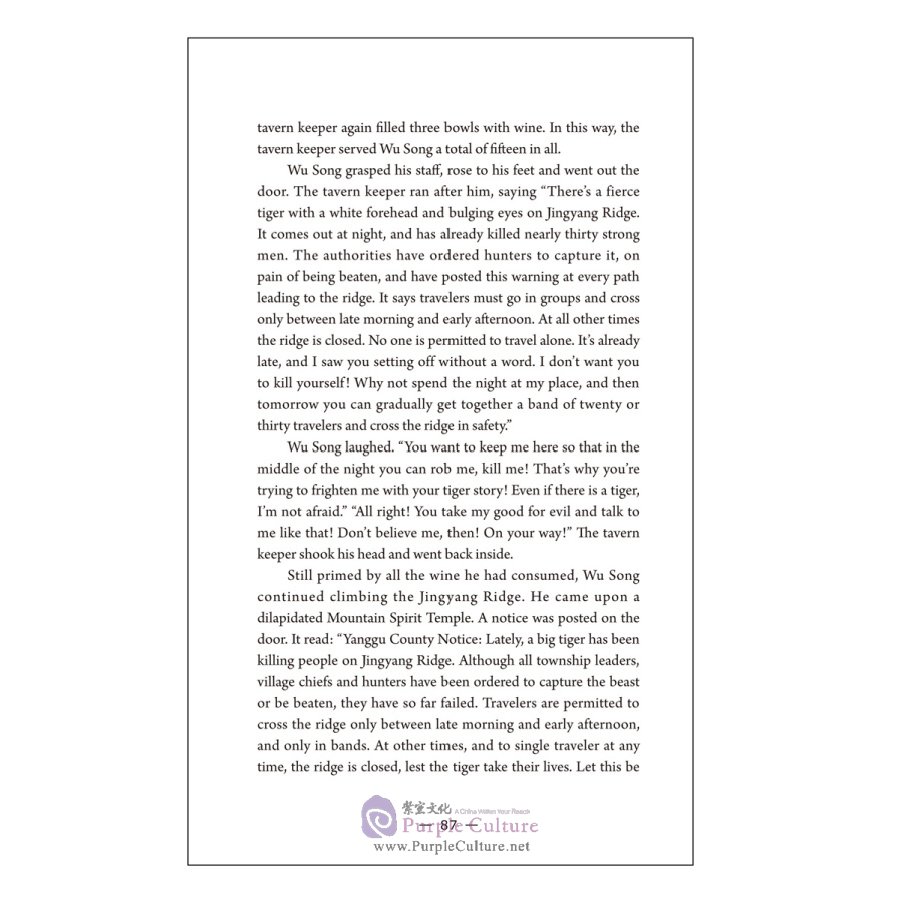 Mistress Wang went to Songjiang and broached the subject.At first he refused. But he was no match for the marriage broker'seloquence, and finally he consented. He took a house in the western part of town, bought some furnishings, and installed Poxi and her mother. From then on, Poxi was draped in silks and herhair was studded with precious ornaments, often drinking withSongjiang.One day, Songjiang brought his assistant Zhang Wenyuanover to have some wine. Zhang was a handsome young fellow,Poxi was attracted to Zhang the moment she laid eyes on him.Busy with the line of duty, Song Jiang came to the house lessfrequently. Poxi, who was a whore before, and Zhang Wenyuanbecame lovers and stuck together like glue.One day, Song Jiang came back to the house of Poxi. Whenhe reached the corner of the wall, he saw Yan Poxi opened door tosee Zhang Wenyuan off. He also heard the gossip of the neighborsthat "Song the Third is coming after Zhang the Thirdleft:In a pet,Song jiang left and had never gone to the house from then on.Ihe other day, Song Jiang drank wine in a tavern. Liu Tangentered and then dropped to his knees and kowtowed.
Songjiangwas startled, asking "How do you dare to come here?" Liu Tangsaid: "Brother Chao is very grateful to you for saving his life. He'snow the highest leader of our stronghold on Mount Liangshan.There is no way we can repay you for your great benevolence, butI have been sent with a letter and a hundred ounces of gold as atoken of our thanks to you."Liu Tang opened his pack, produced a letter and a bundleof gold and gave them to Song Jiang. Ihe clerk put the letter in apouch and gave the gold back to Liu Tang, saying "Listen to me,brother. You seven have just gone to the mountain stronghold. It'stime when you can use money You'd better go back quickly Don't
Outlaws of the Marsh
$17.60