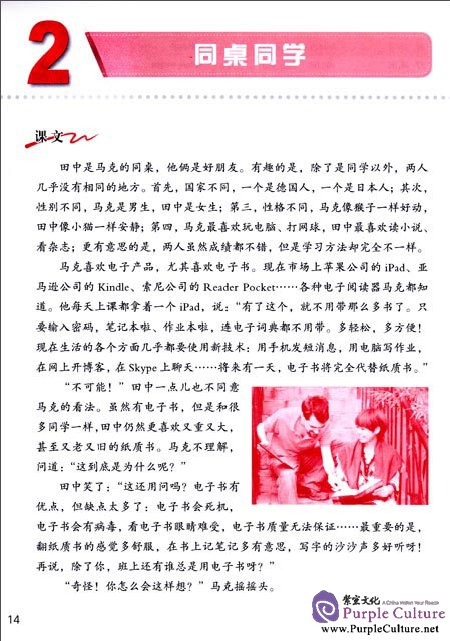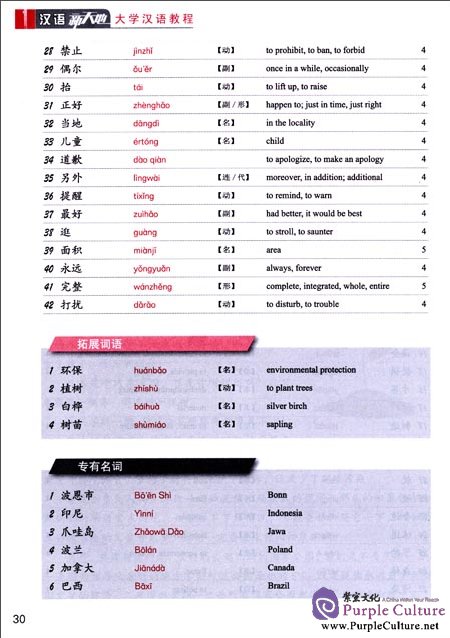 网虫菲菲 
课文 
刚刚来中国时,许多留学生因为人生地不熟、语言不通等原因不敢出校门。可菲菲却不同,她不管到哪儿都不会感到陌生,更不会觉得无聊。对她来说,有了网络,世界就成了地球村。在中国也可以看到几千公里之外的家人、朋友,一切都很方便、很熟悉。她选择来中国,是因为听说中国很多城市的网络很发达,不少大学内到处都可以无线上网。 
菲菲每天除了学习,剩下的时间几乎都在网上逛,有时连作业也用电子邮件发给老师。她总是一下课就急忙回家,上网整理个人主页、聊天、买东西、玩游戏等等,忙得不亦乐乎。有个网友看到菲菲总是在QQ和MSN上,就问:"你天天在线,累不累?"菲菲回答:"我是网虫,怎么会累呢?" 
菲菲可是个高级网虫。她的博客总是很热闹,访问者很多。有好多网站还邀请菲菲与他们链接呢。菲菲在网上选择航班、订飞机票,家里吃的咸面包、辣味饭、巧克力,喝的酸奶、饮料,用的汤碗、盐盒、牙刷、牙膏、洗衣机、沙发,玩的乒乓球、羽毛球,还有挂在墙上的狮子、老虎画儿等,都是从网上买来的,非常便宜,甚至连西红柿、香蕉等水果也从网上买。同学们羡慕死了,菲菲得意地说:"跟我上网吧!" 
同学们问她:"网上的中文你都看得懂吗?""看不懂就用免费的翻译软件呀,它对我学汉语帮助可大啦!" 
学习结束时,同学们想一起吃顿饭,可拿不定主意去哪儿吃。菲菲上网一查,就找到了一个好地方。大家都讨厌排队,没想到上网订餐不仅用不着排队等座位,而且还可以打折。结账时,大家可高兴了,都说菲菲是一只聪明的网虫! 
网络小知识 
QQ、MSN 
QQ、MSN是现在很多人使用的即时通信工具,开始主要用于交流、聊天,随着时代的发展、技术的进步,QQ、MSN已经逐渐成为具有资讯、娱乐、搜索、电子商务等多种功能的信息平台。中国主要的即时通信工具还有:淘宝旺旺、百度Hi、网易泡泡、盛大圈圈等。 
BBS 
BBS是英文Bulletin Board System的简称,在中国一般叫做"网络论坛"。现代人通过BBS这一平台发布和讨论社会的热点问题和一些有趣的话题。中国主要的BBS有:天涯论坛、百度贴吧、猫扑等。 
SNS 
SNS(Social Networking Services)即社会性网络服务,是帮助人们建立社会关系的网络。SNS的另一种常用解释是Social Network Site,即"社交网",以Facebook为代表。中国主要的社交网站有:人人网、开心网、搜狐白社会等。 
博客 
博客的英文是weblog,简称blog,意思是网络日记,是一种通常由个人管理、不定期张贴新文章的网站,是社会媒体网络的一部分。大部分的博客内容以文字为主。中国主要的博客有:新浪博客、网易博客、QQ空间、博客大巴等。 
微博 
微博是微型博客(microblog)的简称,以不超过140字的文字在网上发布信息,实现即时分享。中国主要的微博有:网易微博、新浪微博、搜狐微博等。
1 Customer Review(s):
by ANDONI Z. on 2020-11-04 22:17:54
This book is awesome. It includes 100% the words and grammar from HSK4, 50% of that for HSK5 and 25% of that for HSK6. i.e, if the rumors are true, and the HSK is going to become more difficult in 2021, then even though this book doesn't probably contain all the vocab that's going to be introduced in the new HSK4, it could very well still serve a good purpose.
It has 2 texts per chapter, LOTS of grammar explanations, exercises of various kinds, and the answer key is on the back of the book. I couldn't confirm if it included the answers before I bought it, so here it is, in case anyone else was wondering.
To me, this book is way better than the theory books from HSK standard course series, I own all the books for HSK3 and HSK4 since I bought them very cheap when I was in china, and although these are specifically oriented towards the HSK exam, this series of books don't feature answer keys, you have to download it from their site, and even so, it doesn't really include all the an