Details
It is an integrated software with words, sounds, pictures, animations and music. This wonderfully-designed, high-quality software will make you most happy to learn Chinese.
More than twenty Chinese experts took part in the planning and editing of this new product. More than 100 multimedia experts and programmers worked together to develop it. It is composed of 300,000 Chinese words and relevant English explanations, which are included into one DVD-ROM, one CD-ROM and eight books.
It introduces a step-by-step learning method designed to help you learn oral Chinese first during the study of the Chinese phonetic alphabet. Each Chinese character is accompanied by Chinese phonetic alphabet and each Chinese word or sentence is explained in English.
After finishing the whole set, you will be able to speak Chinese fluently and write Chinese characters smoothly and reach the intermediate level ranked by HSK exam. Besides, through the study of the Chinese idioms and proverbs, you will be able to know more about the traditional culture and the long history of China.
This software can be used as teaching material by education institutions, as well as students who are learning Chinese, especially by businesspersons who are studying Chinese on their own.
Table of Contents
《Intensive Reading(上)》目录:
第l课 你好!
第2课 你叫什么名字?
第3课 她是谁?
第4课 我来介绍一下儿
第5课 你家有几口人?
第6课 现在几点?
单元练习一
第7课 我用一下儿你的自行车,行吗?
第8课 请问餐厅在哪儿?
第9课 今天天气怎么样?
第10课 一共多少钱?
第11课 你喜欢喝茶还是喜欢咖啡?
第12课 你是哪位?
单元练习二
第13课 你每天怎么去上班?
第14课 我想租一套房子
第15课 昨天你在书店买了什么书?
第16课 你们爬的是哪座山?
第17课 你今年多大年纪?
第18课 你去过哪些名胜古迹?
第19课 你应该戒烟
单元练习三
词汇表
《Intensive Reading(中)》目录:
第l课 你汉语说得真流利
第2课 请您慢点儿说
第3课 欢迎你到中国来!.
第4课 为我们的友谊干杯!
第5课 你怎么比经理还忙?
第6课 你弟弟和你一样聪明
单元练习一
第7课 你游泳游得怎么样?
第8课 节日
第9课 春节是中国最重要的节日
第10课 我们去哈尔滨旅游
《Intensive Reading(下)》目录:
第1课 你的收获真不少
第2课 我也去享受享受·
第3课 中国人都会练武术吗?
第4课 他们的热情实在让人感动
第5课 眼看冬天就要来了
第6课 我是来应聘的
第7课 你想找个中国对象?
第8课 怪不得他们的就业率会那么高呢
第9课 你真有两下子!
第10课 我们一起坐公交车吧!
第11课 现在流行网上购物
《互动汉语·歇后语·典故·宋词)》目录:
成语
拔苗助长
背井离乡
逼上粱山
病入膏肓
草木皆兵
打草惊蛇
水滴石穿
对牛弹琴
《互动汉语·谚语·唐诗》目录:
成语
拔功助长
背进离乡
逼上梁山
病入膏肓
草木皆兵
打草惊蛇
水滴石穿
对牛弹琴
《互动汉语V5.0版使用说明书》
《互动汉语·识字与书写》
《互动汉语·拼音与常用语》
《互动汉语·词汇》
Sample Pages Preview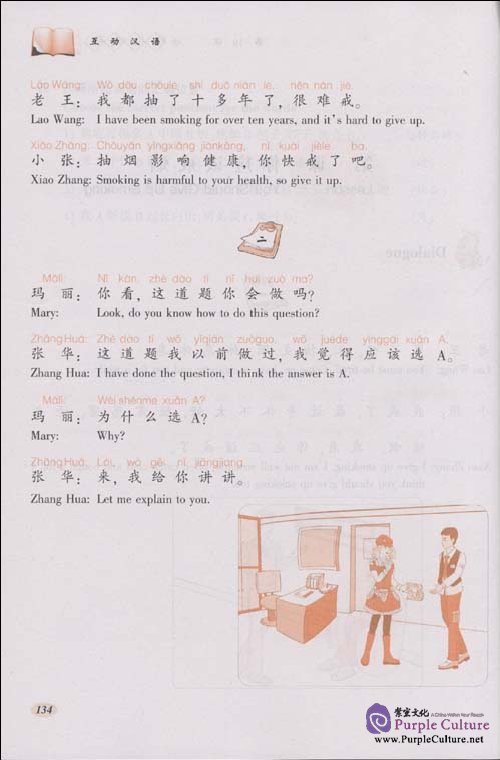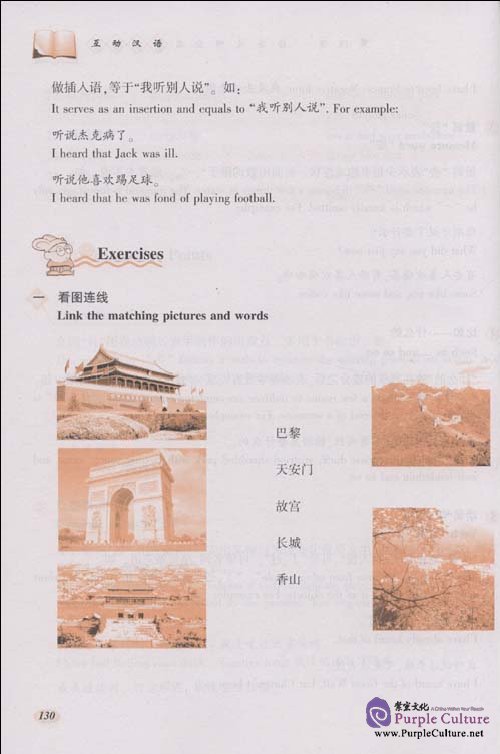 Interactive Chinese(8 Books+1 DVD-ROM+1 CD-ROM) (New Version)
$155.00