---
Language: Chinese and English bi-lingual sound track and captions
Format: 5DVDs + 5books + 50 bookmarks
Publication Date: 11/2007
ISBN: 9787561919569
Sample Pages: PDF Download
Details
Users intended: Foreigners without any experience in Chinese learning and teachers of Chinese as a foreign language, Chinese elementary and middle school students and friends of Chinese minority group
Description

With the rapid development of its economy, China is getting more and more influential in the world. People all over the world are casting their eyes on this great old nation and their interest to learn more about China's past and present is growing. They want to find out what has been driving this nation to develop at such a great speed.

Being an old country with 5,000 years of history, China is an important birthplace of human civilization. The great inventions of China, such as paper, gunpowder, the compass, the technology of printing, along with china and silk, have spread to the world and enhanced the cultural exchange between China and other nations; the poems, painting, music, dance and drama created by Chinese people all express their love for nature and their emphasis on ethics and moral obligations, which constitute the essence of Chinese culture and art; the rich and colorful traditional Chinese festivals of various kinds show the passions and emotions of Chinese nation; the traditional architecture of China, such as ancient cities, palaces, temples, common residences and classical gardens, has reflected the Chinese culture and spirit of different eras in history; and the all-embracing attitude Chinese people take towards foreign cultures has further developed and promoted Chinese culture.

The world needs to know China, while China also needs to show the world the splendor of its culture. Based on these needs, Beijing Language and Culture University Press, along with Viewpoint Culture Communication Co., Ltd, has put great efforts of 3 years into this large-scale DVD product, A Kaleidoscope of Chinese Culture, which gives a comprehensive introduction on Chinese culture. This DVD series covers the quintessence of Chinese culture, including Chinese civilization and art, Chinese customs, Confucianism, Buddhism and Taoism, different ethnic groups, and famous places of historic interest and scenic beauty. With brief and vivid commentary, and clear and beautiful pictures, it brings readers to the core of Chinese culture in a convenient and direct way. A Kaleidoscope of Chinese Culture can truly be called a solid multimedia encyclopedia of Chinese culture.

It is our sincere hope that this product will set you on an exciting journey of Chinese culture filled with pleasant surprises and help you to learn more about China.
Table of Contents
Getting to Know China: A Kaleidoscope of Chinese Culture (Album 1) (5 DVDs with 5 booklets and 50 bookmarks)ISBN: 978-7-5619-1956-9, 9787561919569

[47.0181] 0

Getting to Know China: A Kaleidoscope of Chinese Culture (Album 1) (5 DVDs with 5 booklets and 50 bookmarks)ISBN: 978-7-5619-1956-9, 9787561919569
Click to enlarge

Add to Cart

Titel: Getting to Know China: A Kaleidoscope of Chinese Culture (Album 1 with 5 DVDs, 5 booklets)
ISBN13: 9787561919569
Publisher: Beijing Language and Culture University Press (北京语言大学出版社)
Dimensions: 260 x 200 x 40 mm
Publication Date: 2007-11
Language: English, Chinese
Subtitles: English, Chinese
Language skill: Listening, Reading, Integrated, 选修
Level: Beginner, Elementary, Chinese Teachers (TCSL)
Category: Chinese Culture Readers
Medium: Paper, DVD-Video
Users intended: Foreigners without any experience in Chinese learning and teachers of Chinese as a foreign language, Chinese elementary and middle school students and friends of Chinese minority group

Description

With the rapid development of its economy, China is getting more and more influential in the world. People all over the world are casting their eyes on this great old nation and their interest to learn more about China's past and present is growing. They want to find out what has been driving this nation to develop at such a great speed.

Being an old country with 5,000 years of history, China is an important birthplace of human civilization. The great inventions of China, such as paper, gunpowder, the compass, the technology of printing, along with china and silk, have spread to the world and enhanced the cultural exchange between China and other nations; the poems, painting, music, dance and drama created by Chinese people all express their love for nature and their emphasis on ethics and moral obligations, which constitute the essence of Chinese culture and art; the rich and colorful traditional Chinese festivals of various kinds show the passions and emotions of Chinese nation; the traditional architecture of China, such as ancient cities, palaces, temples, common residences and classical gardens, has reflected the Chinese culture and spirit of different eras in history; and the all-embracing attitude Chinese people take towards foreign cultures has further developed and promoted Chinese culture.

The world needs to know China, while China also needs to show the world the splendor of its culture. Based on these needs, Beijing Language and Culture University Press, along with Viewpoint Culture Communication Co., Ltd, has put great efforts of 3 years into this large-scale DVD product, A Kaleidoscope of Chinese Culture, which gives a comprehensive introduction on Chinese culture. This DVD series covers the quintessence of Chinese culture, including Chinese civilization and art, Chinese customs, Confucianism, Buddhism and Taoism, different ethnic groups, and famous places of historic interest and scenic beauty. With brief and vivid commentary, and clear and beautiful pictures, it brings readers to the core of Chinese culture in a convenient and direct way. A Kaleidoscope of Chinese Culture can truly be called a solid multimedia encyclopedia of Chinese culture.

It is our sincere hope that this product will set you on an exciting journey of Chinese culture filled with pleasant surprises and help you to learn more about China.


目录 Contents



中国各地 Places in China

(第一盘 DVD 1)

中国概况 General Information about China
北京 Beijing
上海 Shanghai
天津 Tianjin
重庆 Chongqing
山东省 Shangdong Province
新疆维吾尔族自治区 Xinjiang Uygur Autonomous Region
西藏自治区 Tibet Autonomous Region
香港特别行政区 Hong Kong Special Administrative Region
澳门特别行政区 Macao Special Administrative Region


中国名胜古迹 Scenic Spots and Historical Sites in China

(第二盘 DVD 2)

长城 The Great Wall
颐和园 The Summer Palace
承德避暑山庄 The Imperial Summer Resort
明十三陵 The Ming Tombs
少林寺 Shaolin Temple
苏州古典园林 Classical Gardens of Suzhou
山西平遥古城 The Ancient City of Pingyao in Shanxi Province
丽江古城 The Old Town of Lijiang
桂林漓江 Lijiang River in Guilin
河姆渡遗址 Hemudu Relics

(第三盘 DVD 3)

黄河 The Yellow River
泰山 Mount Tai
故宫 The Imperial Palace
庐山 Mount Lushan
周口店北京猿人遗址 The Peking Man Site at Zhoukoudian
张家界 Zhangjiajie
长江 Changjiang River
龙门石窟 Longmen Grottoes
黄山 Mount Huangshan
九寨沟 Jiuzhaigou Valley

(第四盘 DVD 4)

秦始皇兵马俑 The Qinshihuang Mausoleum and Ist Terracotta Warriors
殷墟 The Yin Ruins
马王堆汉墓 Mawangdui Tombs of the Han Dynasty
殷墟的墓葬 The Ancient Tombs in the Yin Ruins
殷墟的甲骨文 Oracle Bone Inscriptions in the Yin Ruins
曾侯乙编钟 The Chime Bells from the Tomb of Marquis Yi of the Zeng State
法门寺地宫 The Underground Palace of Famen Temple
三星堆遗址 Historical Wonders of Sanxingdui
古蜀晋沙 Jinsha Archeological Site of the Shu Kingdom
马踏飞燕 A Galloping Horse's Hoof Stepping on a Flying Swallow


中国文明与艺术 Chinese Civilization and Art

(第五盘 DVD 5)

书法艺术 Chinese Calligraphy
中国画 Chinese Painting
年画 New Year Pictures
剪纸 Paper-Cuts
中国丝绸 Silk Fabric in China
刺绣 Embroidery
旗袍 Qipao
瓷器 Chinaware
中医的理论基础—阴阳五行 Yin and Yang and Five Xing
针灸 Acupuncture
Sample Pages Preview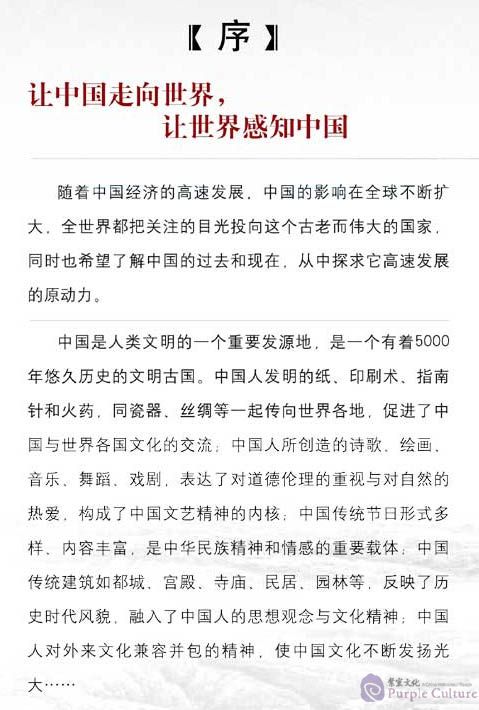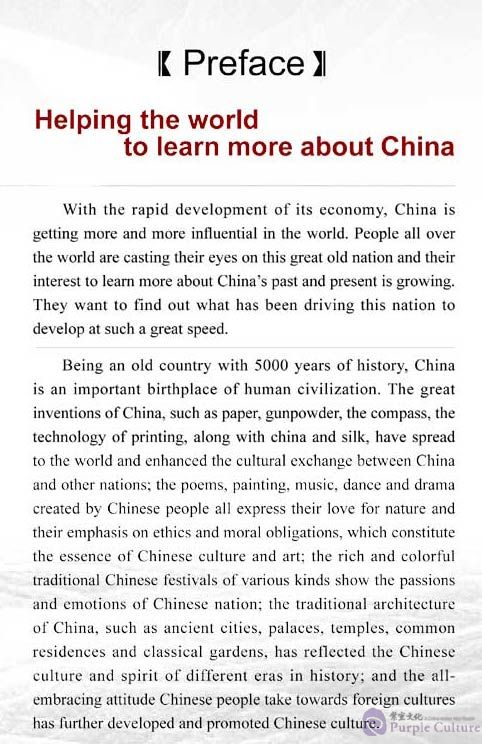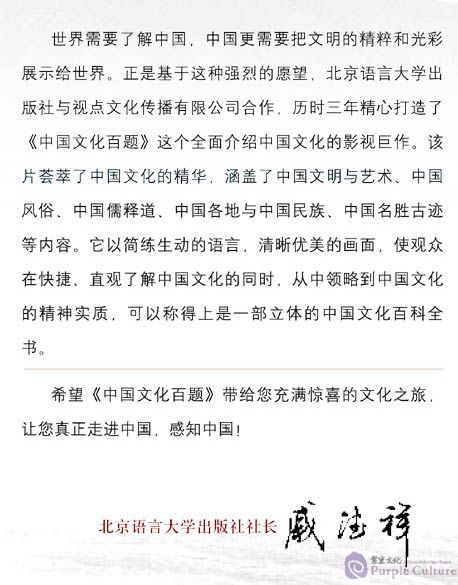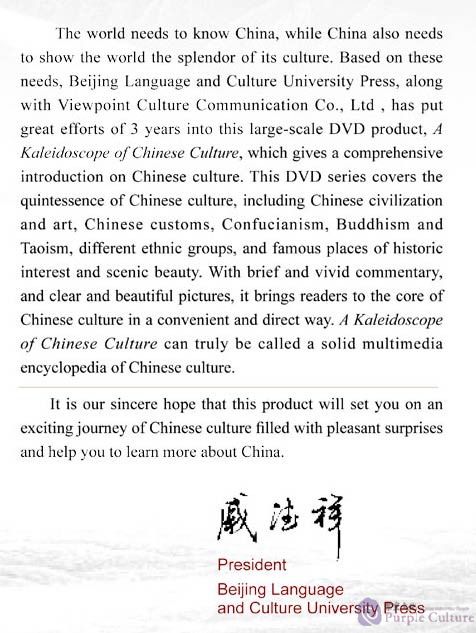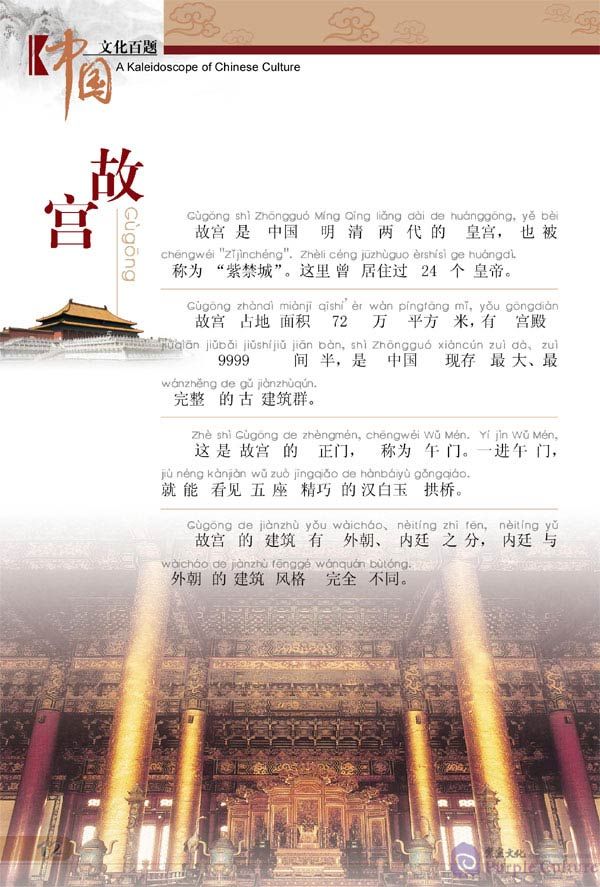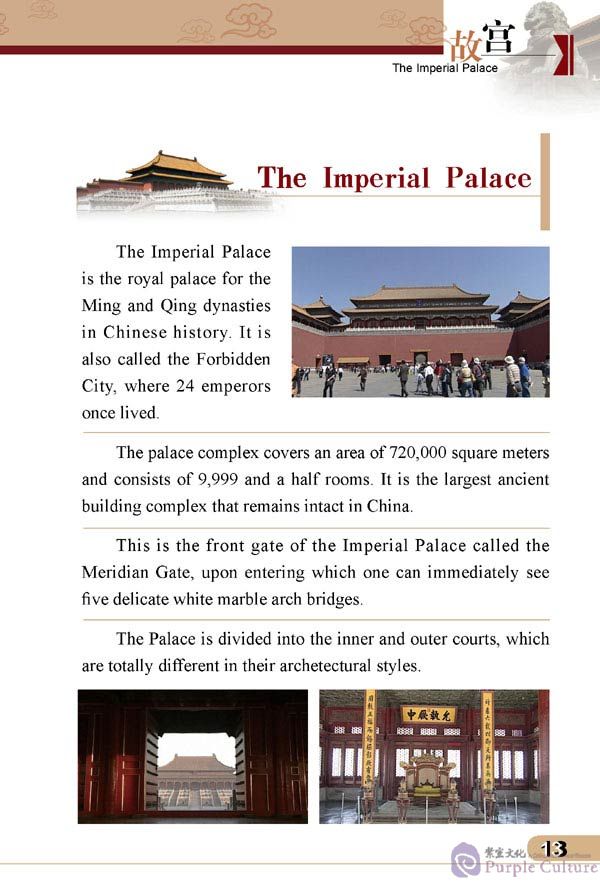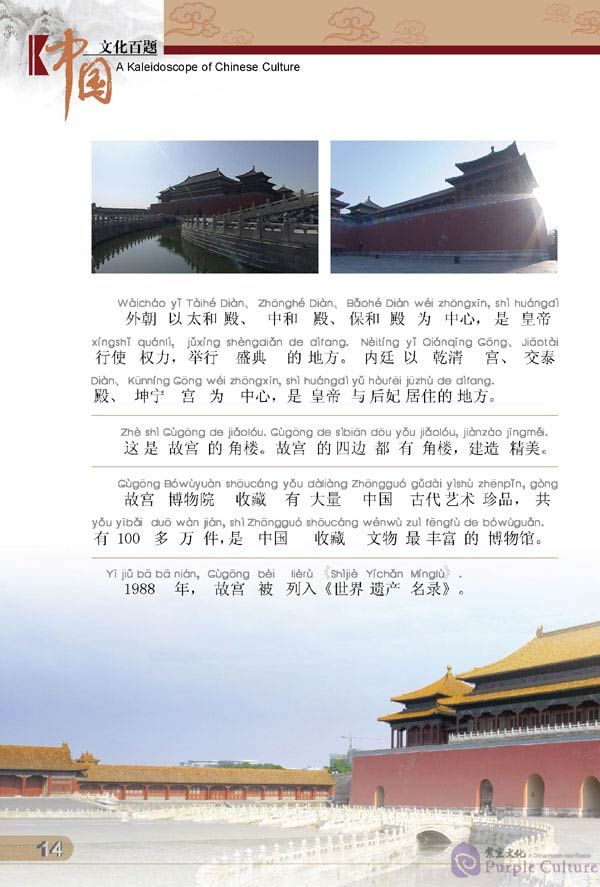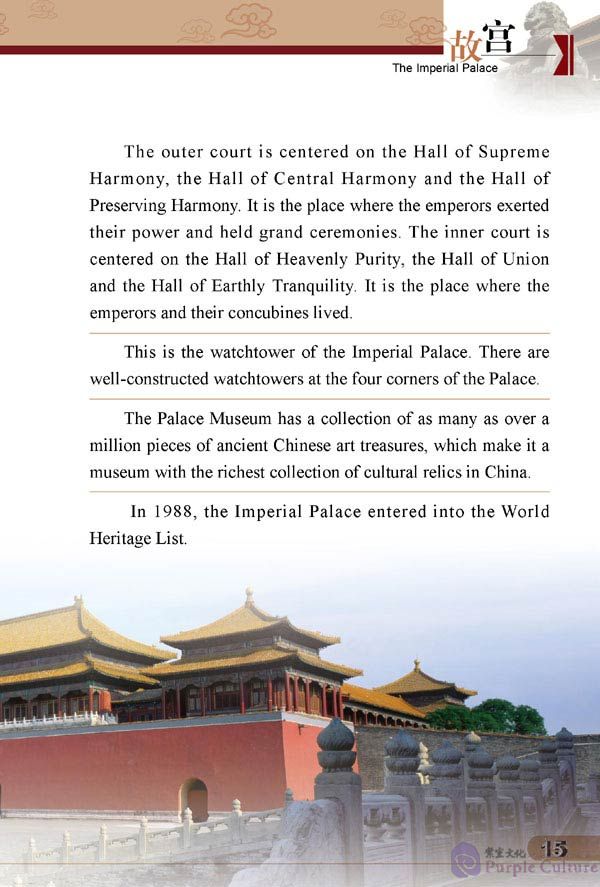 Getting to Know China: A Kaleidoscope of Chinese Culture: Album 1 (5DVDs + 5books + 50 bookmarks)
$238.00