We're excited to announce that we've recently upgraded our Vocabulary List and Sentence List with an innovative Interactive Quiz Creator feature. With this new function, you can now effortlessly generate online quizzes using your existing word or sentence list, making learning more engaging and interactive than ever before.
To access this function, open an existing word or sentence list, then click on the Test menu and select "Interactive Quiz", a sidebar will appear on the right of your screen.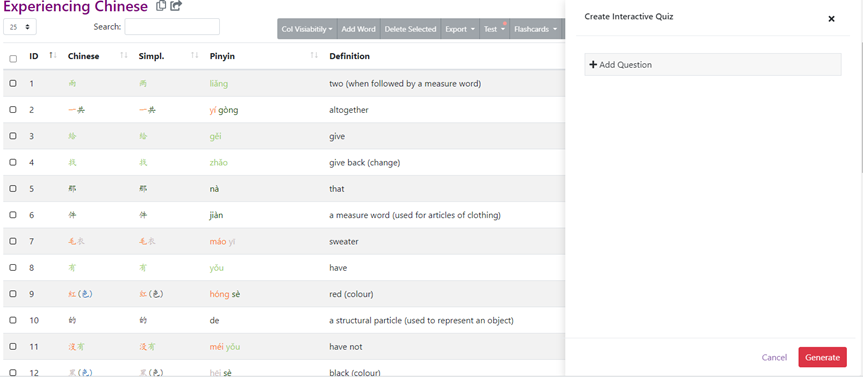 To start adding questions to the quiz, please click on the "Add Question" button. Now you will see an array of options for question adding.
Question Type:
Here, you can use the dropdown menu to select from a wide range of question types to suit your specific needs. These options include multiple-choice, matching, true/false, writing, and Sentence Scramble (for sentence lists only) questions.
You may select more than one question type.
Words to Use:
Choose which words/sentences you would like to use in the question. There are 3 options:
Random N per type.
With this option, you can specify a number N, and the system will randomly select that number of words/sentences from your list for each question type you choose. If you choose multiple question types, then the system will choose random N words/sentences for each question type
Random unique N in total.
When this option, the Interactive Quiz Creator randomly selects a specified number N of words or sentences from your list, and evenly distributes them across all selected question types. This option is especially helpful when using multiple question types, as it allows you to create a comprehensive and well-rounded quiz quickly.
For instance, you could choose several multiple-choice questions to assess general knowledge, as well as some dictation and writing questions to evaluate listening and character writing skills. By using the "Random unique N in total" option, the system will randomly generate a quiz with N questions in total, that are distributed across all chosen question types, resulting in a diverse and balanced quiz.
Manual Select.
The "Manual Select" option allows you to handpick specific words/sentences to use in your quiz question. When this option is selected, a selection message will appear at the top of your screen, prompting you to choose from the list.

To make your selections, simply use the checkboxes provided in the first column to indicate which words or sentences you want to include in your question. Once you have made your choices, click on the "Done" button to complete the selection process. The selected IDs will then appear in the textbox, indicating that these items will be used in your quiz question.

This option is ideal for situations where you need precise control over the content of your quiz question, such as when creating questions for specific learning objectives or assessments. By giving you this level of flexibility and customization, the Interactive Quiz Creator empowers you to create quizzes that are both engaging and effective.
After you have finished setting up your quiz questions, click the "Add" button to add your selected question types to the candidate list. Once your selected question types have been added, you can continue adding more questions to your quiz by clicking the "Add Question" button.
If you need to remove any questions from the list, simply hover over the question in the question list and click on the "Remove" button.
Once all is set, just click on the "Generate" button, the generated quiz link will appear on the top of your screen.