This book introduced the current situation of the Shadowgraph history of the development and this cultural heritage through a lot of pictures.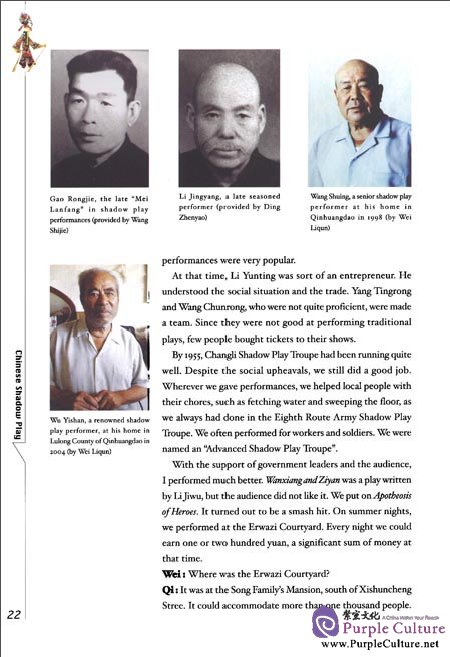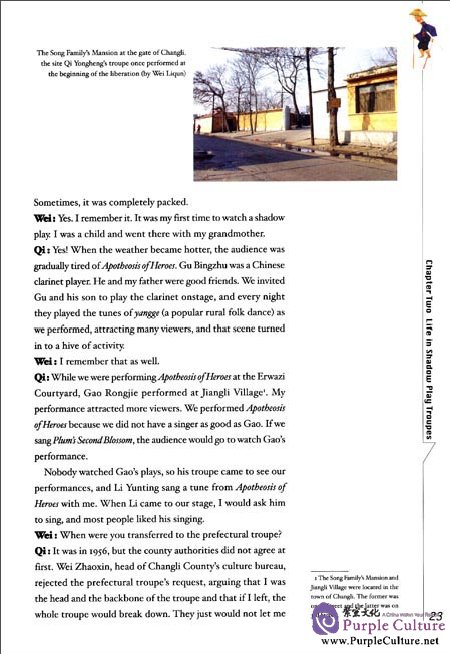 After returning to in Changli,we performed at the old theater at the foot of the town walls. 
Wei: Is that the theatre you mentioned,the one that was an old cinema after the liberation? 
Qi: Yes,it was. 
Wei: Later,it became a shadow play theater right? 
Qi: Yes.It retained its original appearance when we performed there.Performers all lived at home,but I stayed at the theater. 
Changli had experienced two liberations.The town was liberated by communist troops in May 1947,only to be recaptured by Kuomintang soldiers after we returned.So,Changli had not really been liberated.Once,more than ten Kuomintang police officers came to our theater and hit our drums and gongs recklessly I was fifteen or sixteen years old then.When I tried to stop them,they rudely pushed me aside.I was quite furious! Before long,Changli was liberated. 
A man named Su came to my home one day He had a lump in his leg and one of his friends suggested he seek medical treatment in Changli.He stayed at my home for a month,for my father was helpful and trustworthy When he arrived,he said that he was a tailor and had come to treat his leg problem.Later it turned out that he was gathering intelligence for the Eighth Route Army Back then,Su,my father and I shared a room,while my mother and my brothers lived in another room.One night,I woke up and overheard them talking about Marxism,Leninism,Communism and the people's liberation. 
My mother asked Su to make a coat for me.He said,"OK,but I am too busy these days.I will do it later."In fact,he knew nothing about tailoring.At last,when he was about to leave,he told my father,"I am no tailor at all.You are an honest and good man,so I must tell you the truth.I am from the Eighth Route Army I came here under the pretense of treating my leg and but I was actually gathering intelligence."He even revealed his full name,but I cannot remember it now.He also said to my father,"If there is anything I can do for you,just let me know."Obviously,he meant he could help us join the revolution.But my father had no other choice but to perform shadow plays to support the whole family Influenced by Su,I later joined the Shadow Play Troupe for the Army and the People.