---
Language: Chinese-English
Format: Papercover
Page: 812
Publication Date: 11/2008
ISBN: 9787105090501
Details
本工具书紧扣《彝汉词汇》(四川省民委彝语文工作组和凉山州语言文字指导委员会,1978)和《彝汉字典》(四川民族出版社1990),选词6200条左右,加上四音格词(300多条)和三音节重叠词(100多条)作为二级条目,共收入彝语词汇约6600多条汉语、英语释义是在广泛征询、语境释义和对话观察的基础上写成释项中提供了彝语拼音读音、国际音标读音、词性、汉义、英义、反义词、四音格词、三音节重叠词等项目。
This glossary includes words from the Yi - Chinese Glossary (Sichuan Minority Affairs Commission Yi Language Work Group and Liangshan Language Affairs Guiding Committee, unpublished 1978) and the Yi - Chinese Character Dictionary (Chengdu: Sichuan Minzu Chubanshe 1988). The Chinese and English definitions were compiled and checked through interviews, glossing of texts, conversation, and personal observation.
The main glossary lists approximately 6,200 frequently used words, along with more than 300 four syllable expressions and more than 100 three syllable forms as subentries, totaling approximately 6,600 words. Main entries are printed in Yi characters and follower by Yiyu Pinyin, IPA transcription, part of speech, Chinese definition, and English definition, with some entries including antonym references and/or subentries for related three or four syllable expressions.
This book is mainly for three kinds of people: Nuosu Yi people studying Chinese and/or English; linguists and anthropologists both inside and outside China; and development workers who work in the Liangshan region.
Sample Pages Preview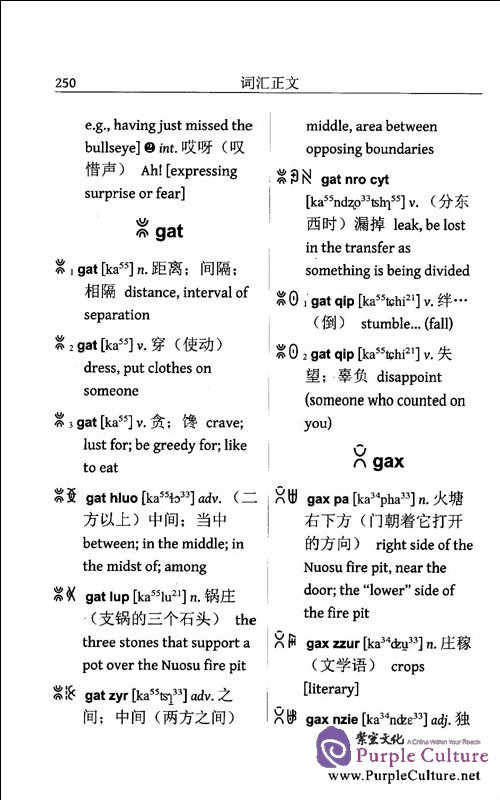 Nuosu Yi-Chinese-English Glossary
$22.17