第二十三课 Lesson 23 
一、情景对话Situational Dialogues阿尔玛去友谊商店了 
二、生词 New Words 
三、注释 Notes 
四、语法 Grammar 
五、语音语调 Pronunciation and Intonation 
六、练习 Exercises 
第二十四课 Lesson 24 
一、情景对话 Situational Dialogues你去过几次颐和园? 
二、生词 New Words 
三、注释 Notes 
四、语法 Grammar 
五、语音语调 Pronunciation and Intonation 
六、练习 Exercises 
第二十五课 Lesson 25 
一、情景对话Situational Dialogues我们参观了一个石油化工厂 
二、生词 New Words 
三、注释 Notes 
四、语法 Grammar 
五、语音语调 Pronunciation and Intonation 
六、练习 Exercises 
第二十六课 Lesson 26 
一、情景对话 Situational Dialogues你有什么业余爱好? 
二、生词 New Words 
三、注释 Notes 
四、语法小结 A Brief Grammar Summary 
五、练习 Exercises 
第二十七课 Lesson 27 
一、情景对话 Situational Dialogues你要借什么书? 
二、生词 New Words 
三、注释 Notes 
四、语法 Grammar 
五、语音语调 Pronunciation and Intonation 
六、练习 Exercises 
第二十八课 Lesson 28 
一、情景对话 Situational Dialogues他写完信去邮局了 
二、生词 New Words 
三、注释 Notes 
四、语法 Grammar 
五、语音语调 Pronunciation and Intonation 
六、练习 Exercises 
第二十九课 Lesson 29 
一、情景对话 Situational Dialogues她正在看电影呢 
二、生词 New Words 
三、注释 Notes 
四、语法 Grammar 
五、语音语调 Pronunciation and Intonation 
六、练习 Exercises 
第三十课 Lesson 30 
一、情景对话Situational Dialogues下雪了 
二、生词 New Words 
三、注释 Notes 
四、语法 Grammar 
五、语音语调 Pronunciation and Intonation 
六、练习 Exercises 
第三十一课 Lesson 31 
一、情景对话 Situational Dialogues她上楼去了 
二、生词 New Words 
三、注释Notes 
四、语法Grammar 
五、语音语调 Pronunciation and Intonation 
六、练习 Exercises 
第三十二课 Lesson 32 
一、情景对话 Situational Dialogues 
(一)你要硬卧还是软卧? (二)这次班机几点起飞? 
二、生词 New Words 
三、注释 Notes 
四、语法小结 A Brief Grammar Summary 
五、练习 Exercises 
第三十三课Lesson 33 
一、情景对话Situational Dialogues上海队踢进去了一个球 
二、生词 New Words 
三、注释 Notes 
四、语法 Grammar 
五、语音语调 Pronunciation and Intonation 
六、练习 Exercises 
第三十四课 Lesson 34 
一、情景对话Situational Dialogues你是从哪个国家来的? 
二、生词 New Words 
三、语法 Grammar 
四、语音语调 Pronunciation and Intonation 
五、练习 Exercises 
第三十五课 Lesson 35 
一、情景对话Situational Dialogues我到北京四五天了 
二、生词New Words 
三、注释Notes 
四、语法 Grammar 
五、语音语调 Pronunciation and Intonation 
六、练习 Exercises 
第三十六课 Lesson 36 
一、情景对话Situational Dialogues你们先喝着酒 
二、生词 New Words 
三、注释Notes 
四、语法Grammar 
五、语音语调 Pronunciation and Intonation 
六、练习Exercises 
第三十七课 Lesson 37 
一、情景对话Situational Dialogues两个小时演得完吗? 
二、生词 New Words 
三、注释Notes 
四、语法Grammar 
五、语音语调 Pronunciation and Intonation 
六、练习 Exercises 
第三十八课 Lesson 38 
一、情景对话Situational Dialogues生命在于运动 
二、生词 New Words 
三、注释Notes 
四、语法小结 A Brief Grammar Summary 
五、练习 Exercises 
第三十九课 Lesson 39 
一、情景对话Situational Dialogues把化验单给我 
二、生词New Words 
三、注释Notes 
四、语法 Grammar 
五、语音语调 Pronunciation and Intonation 
六、练习 Exercises 
第四十课 Lesson 40 
一、情景对话Situational Dialogues你把这张票带给安娜 
二、生词 New Words 
三、注释Notes 
四、语法Grammar 
五、语音语调 Pronunciation and Intonation 
六、练习 Exercises 
…… 
第四十一课 Lesson 41 
第四十二课 Lesson 42 
第四十三课 Lesson 43 
第四十四课 Lesson 44 
语法复习提纲 Grammar Review Outline 
词汇表 Vocabulary 
专 名 Proper Nouns 
练习参考答案 Keys to the Exercises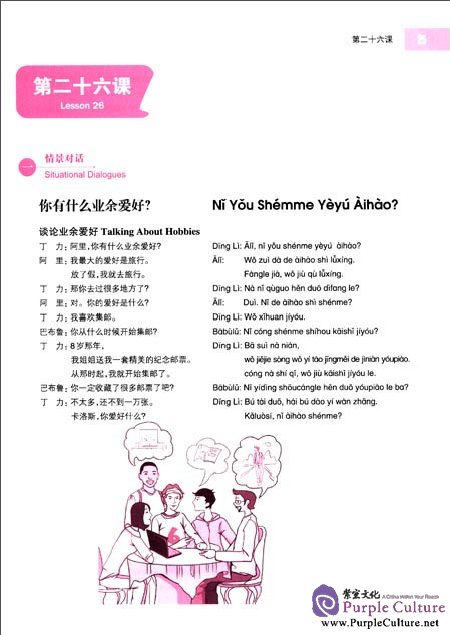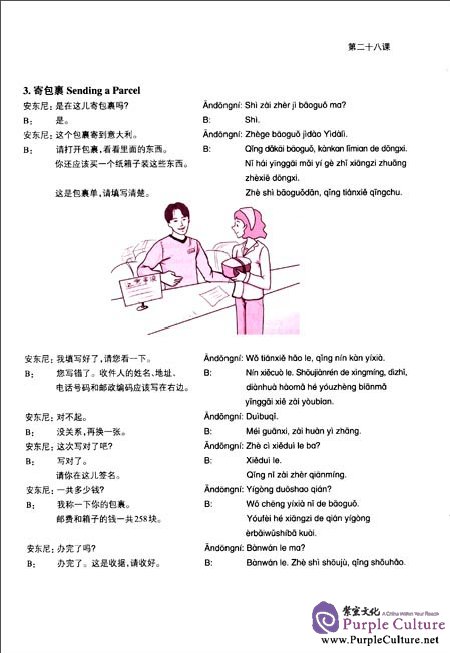 注释 
1.长城有两千多年的历史了。 
数词"多"表示整数后的零头。 
The numeral多may be used after an integer meaning "more than" or "over". 
2.值得一去 
"—"在这儿用来加强语气。 
——may be used before a verb to express a tone of stressing the affirmative. 
3.好玩儿的地方多着呢! 
"着呢"用在形容词后表示肯定、程度很高,并有夸张意味,多用于口语。 
着呢,which is placed after an adjective to indicate certainty or a high degree, is ususlly used in colloquial Chinese with a sense of exaggeration. 
4.还不错。 
副词"还"(2)表示程度上勉强过得去,一般是往好的方面说的。 
The adverb还here means "passably" or "fairly". It is used when one wants to say something good about a matter which is just acceptable. 
5.不敢当 
"不敢当"的意思是承当不起,当对方称赞、夸奖自己时用来表示谦虚。 
不敢当,meaning"I don't really deserve it", is used in reply to a complimentary remark from the person spoken to. 
6.你还是去买本旅游手册吧。 
副词"还是"(2)表示经过比较和考虑,引出所选择的结果。 
还是,here is an adverb used to introduce a conclusion which has been arrived at after comparison or the weighing of the pros and cons in a situation.