Sample Pages Preview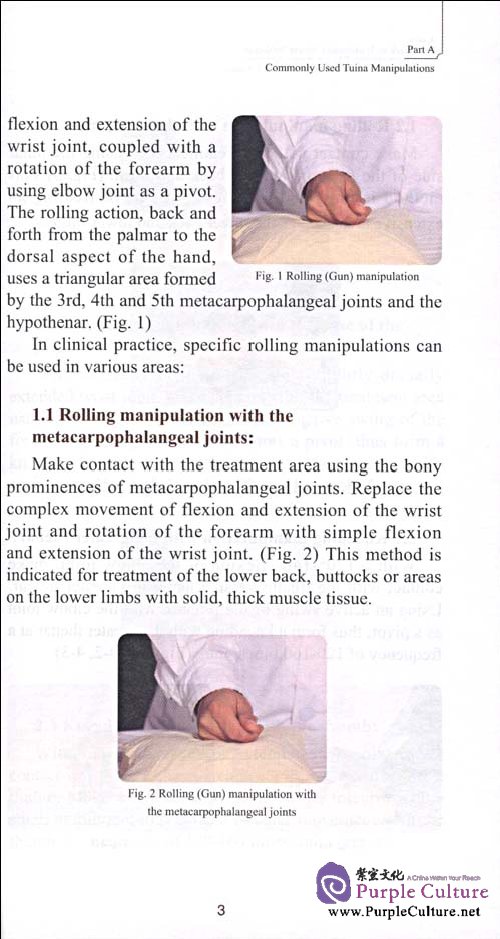 Tuina manipulations are used by practitioners toprevent and treat conditions using hands or other bodyparts over the treatment area.
The quality of tuina manipulation is vital to ensure theeffect of the treatment. Effective manipulations need tobe lasting, forceful, even, soft, and penetrating to dredgemeridians, circulate qi and blood, lubricate joints andregulate the functions of zang-fu organs.
The practice of tuina involves moving technique andincreased force of the fingers, wrist and arm. Beginners canpractice on a sandbag first and then on the human body. Forsandbag practice, one needs to prepare a muslin bag sizedin 8 cunx5 cun containing clean yellow sand (small piecesof sponge can make the sandbag more elastic). Tighten thebag at first and gradually loosen it. After that, one can startto do comprehensive practice on the human body, such ashead, face, neck and nape, arms, legs, shoulder and back,low back and buttocks, chest and hypochondriac region,and abdomen.
In addition to manipulation techniques, tuinapractitioners should also practice increasing the forceof fingers, wrist and arms by doing push-ups, dumbbellraises and pinch meter. Furthermore, they should practiceimproving coordination through Yi Jin Jing and Shao LinNei Gong.
1. Rolling (Gun) manipulation
Operation: With naturally-bent fingers and arelaxed shoulder, place the dorsal aspect of the 5thmetacarpophalangeal joint over the treatment area androll the hypothenar and dorsum of hand back and forthcontinuously.