"Tales from China's Classic Essential Readings is a series of four books offering a selection of popular tales from the Three Character Classic, Hundred Family Surnames, Thousand Character Classic, and Children's Knowledge Treasury. The tales are introduced in simple and concise, yet interesting language. Through the books, the readers will become acquainted with Chinese culture and history as well as traditional Chinese thinking, morality, and ethics. This series is suitable for young readers and anyone who would like to know about Chinese history and culture.
This series boast the following features:
 Concise and lively stories in both Chinese and English to enable readers of different Chinese levels to gain a thorough understanding.  
 Original classic texts were included with pinyin transcriptions to help readers with pronunciation while enjoying classic Chinese writings.
 Each story is accompanied by illustrations in artistic Chinese styles.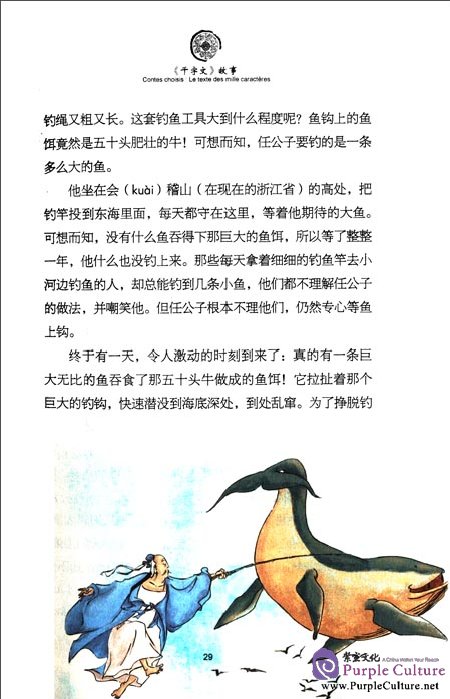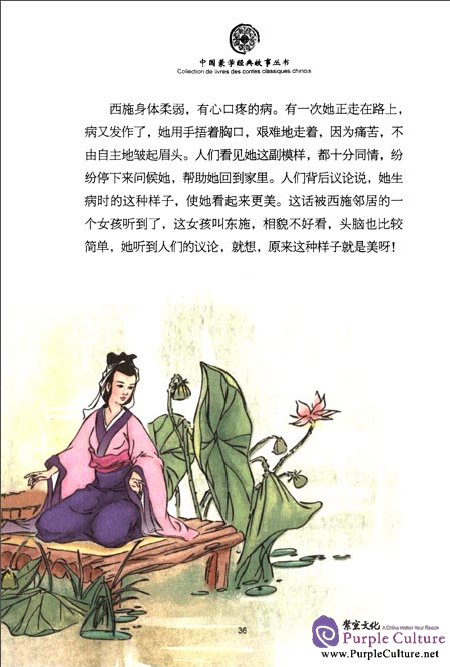 虞国的大臣宫之奇阻止国君说:"虢国是我们虞国的屏障,虢国灭亡了,虞国也不能长久。上次借路给晋国就已经不对了,怎么能第二次这样做呢?我们和虢国的关系,就如同嘴唇和牙齿一样,是相互依存的;失去了嘴唇,牙齿就会觉得寒冷。"虞国国君辩解说:"晋国只是想攻打虢国,不会谋害虞国。"宫之奇说:"晋国可以灭掉虢国,怎么还会爱惜虞国呢?"虞国国君又辩解说:"我献给神的祭品又丰盛又干净,神一定会帮助我。"宫之奇劝他说:"鬼神只会帮助那些德行高尚的人。"但国君完全听不进去,到底还是答应了晋国借路的要求。 
宫之奇见国君如此愚昧,就偷偷带着他的家族离开了虞国,并说:"看来我们虞国没有机会再举行年终时候的祭祀了,这一次它就会灭亡,晋国用不着再次发兵。" 
晋国大举进攻虢国,虢国终于灭亡,虢国国君逃到周王那儿去了。晋军从虢国回来时驻扎在虞国,虞国毫无防备,晋军乘机发动袭击。结果正如宫之奇所判断的那样,虞国国君被俘,虞国也灭亡了。晋国收回了他们当初送给虞国国君的玉璧和良马,虞国国君失去了一切,落得两手空空。 
吞并了虢、虞两国之后,晋国的疆域延伸到了黄河南岸地区,为他们争夺中原霸主的地位奠定了基础。 
Souverain Xiangong des Jin regnait sur le Royaume des Jina l'epoque des Printemps et Automnes. Apres son accession autr6ne, il annexa quelques petits Etats vassaux et ainsi agranditson royaume. Non content de cela, il voulut etendre encore sasphere d'influence. 
Au sud du Royaume des Jin, se trouvaient deux petitsEtats des Yu et des Guo ; ils entretenaient depuis toujours desliens de bon voisinage avec l'Etat des Jin. Souverain Xiangongdes Jin desira les integrer a son royaume. Pretextant avoir eteoffense par l'Etat des Guo, il lanca une expedition punitive pourvenger son honneur. Mais pour attaquer l'Etat des Guo, il fallaitpasser par le territoire des Yu. Pour resoudre ce probleme, unministre qui s'appelait Xun Xi, conseilla d'offrir un pot-de-vinau souverain des Yu. Connu pour sa cupidite et par ailleurs sansgrande ambition, il serait certainement facile de lui acheter ledroit de passage.