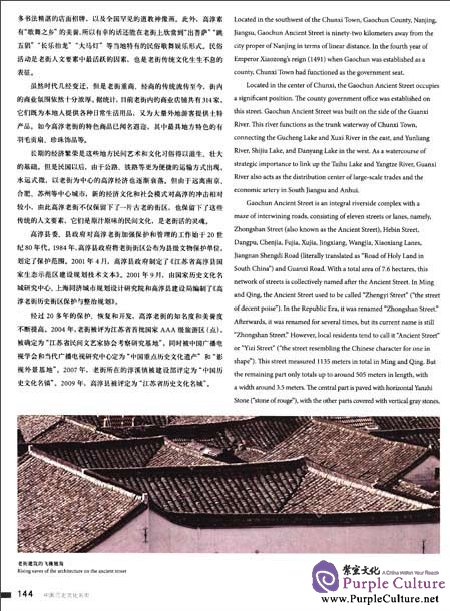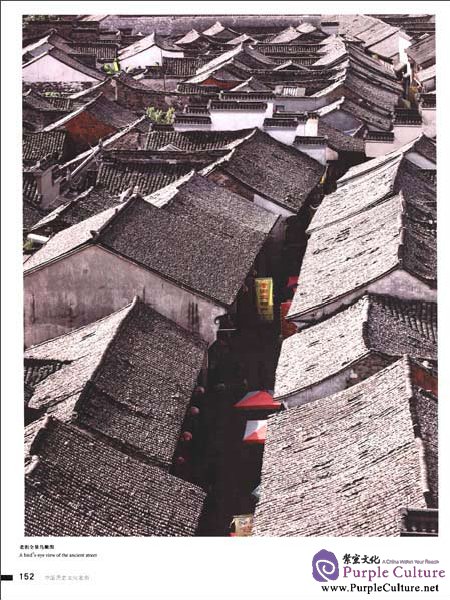 Memorial Hall of Zheng Guangwen on the Beigu Hill at the northern end of Ziyang Street started to be built in the second year of Guangde Era in the Tang Dynasty (764 A.D.) in memory of Zheng Qian,who was the first to set up schools in Taizhou Prefecture. Wenmiao Temple,which stands next to the former site of Taizhou Governmental Office at the northernmost end of Ziyang Street,started to be constructed in the second year of Baoyuan Era in the Northern Song Dynasty (1039). Being the largest of its kind in Taizhou,this temple has enshrined a number of historic figures. 
Longxing Temple,known as the No. 1 Temple of Taizhou,is located at the southern end of Ziyang Street,at the foot of Jinzi Hill. In the Tang Dynasty,a monk from Longxing Temple had accompanied Jianzhen on his eastward journey to popularize Buddhist beliefs in Japan,while a Japanese monk also visited Longxing Temple,copying scriptures and lecturing on the followers. At his return to Japan,he established the Tiantai Sect of Japanese Buddhism. Therefore,this temple is the birthplace of this Japanese Buddhist sect and also a significant venue for the exchanges between Chinese and Japanese Buddhist cultures.
Archways are erected every three hundred meters on the Ziyang Street. Their names are inscribed in forceful script on a horizontal board on top. All these names are related to folklores and legends among local residents. Most of them are associated with Ziyang God. For example,the Archway to Welcome the God,the Archway to Worship the God,the Archway to Gain Godhood are so named in memory of the Ziyang God. 
On the Ziyang Street,there are also Ziyang Bridge,Ziyang Archway,Ziyang Residence and Ziyang Palace. The nameboard which used to hang on the Ziyang Taoist Monastery was calligraphed by Emperor Yongzheng in the Qing Dynasty. The cornerstones for the archway at the southern gate of the Ziyang Palace still exist.